Attended my first bluegrass jam to observe at a local brewery after work this evening. The players were very good and a pleasure to listen to. Various instruments - 2 banjos, several acoustic guitars, a fiddle, a washtub bass, a couple of mandolins. Very intimidating at this point to bring out my banjo but it has inspired me to try practicing everyday again for 2014. Didn't know most of the songs they played except for one "Worried Man" so I think I will try to learn that song without having to look at the tab so in the future I might be able to join the monthly jam that is gathered at the brewery. It was a great setting in a private area of the brewery and look forward to attending it at the first Tuesday of each month. found it through www.thebluegrasssituation.com It is a local gathering in the Los Angeles area - free to attend and open for all ages and levels according to the website.
---
3 comments on "First attendance to a bluegrass jam"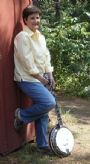 Banjosnob Says:
Wednesday, January 8, 2014 @3:05:21 AM
It can be intimidating!!! Sit, with your instrument on the front row and try to keep up with the chord changes or vamp.
After a few weeks you won't have to look at the fretboard and will anticipate the chord progression....usually 1,4,5.
Your fingers will get a workout!! great fun too!

tgaryc Says:
Wednesday, January 8, 2014 @7:27:46 AM
learning all the different songs is the hardest part for me. Banjosnob gave good advice, just try to blend in and play softly. take a pen and paper and write down the songs that are played and the key. find out about the Nashville numbering method 1 through 8 and it will help you figure out the cord progression. but most of all just have fun. GC

banjoshamisenbass Says:
Wednesday, January 8, 2014 @10:47:05 PM
Thanks for the advice! Will look into finding out what music they tend to play and also will ask my instructor about the Nashville numbering. Much obliged!

You must sign into your myHangout account before you can post comments.