Long ago and far away, I wrote that in my perfect world everyone would learn to play guitar (by ear, of course!) before they learned to play banjo. Why did I say that? Because it's so much easier to hear chord changes on the guitar. And hearing chord changes is the root of all improvising, the root of all jamming, the root of all everything in the world of bluegrass!
Alas, that was a pipe dream. Few people have the time or energy to learn guitar before banjo. When the banjo bug bites, you want to learn to play banjo! But the best way to learn to play banjo is to start with tunes, not chords. (This, of course, is after you've spent a tiny amount of time learning a few rolls. Rolls are simply a means to an end.)
So, early on I would end up with students who could play plenty of tunes--tunes learned by ear that sounded good--but they had no clue about the chords. Then I realized, "Oh, gee! I have to teach them the chords, too!" Somehow I thought they would absorb the chords by osmosis, as I did, by watching, listening, singing, and playing. Clearly this wasn't the case.
What followed was years and years of me trying to figure out the best way to teach students to hear chord changes. (Chronicled in my first book And There You Have It!) What didn't work was trying to get them to learn to vamp to the beginning songs they were learning: Banjo In The Hollow, Cripple Creek, Cumberland Gap, Foggy Mountain Breakdown. Bad idea! What finally worked was the "singing songs" I started teaching: I Saw The Light, Do Lord, Worried Man, Two Dollar Bill. With strong, repetitive melodies (verse and chorus the same) and chords that usually stayed put for four to six beats, students now had a fighting chance. Three-chord songs using G, C, and D. That's where you start. (These songs--with the chording--ended up on our Misfits DVD, which, IMO, is one of our best.)
So, how does this help you?
First of all, hearing chord changes is something that you can learn. People are not born knowing how to hear chord changes. Sure, some people are better at it than others for many reasons. But YOU CAN LEARN THIS! But, as always, you need method and order and you need to start with simple singing songs.
Learning to hear chord changes is all about TRIAL AND ERROR. If it sounds wrong, then it is wrong. You start in one chord (G), you play along till it doesn't sound right anymore and then you take a guess as to where you go next, C or D. If you guess C and that sounds wrong, then go to D and see if that sounds right. If that's not right, then you probably should have stayed in G longer! Just because the voice goes to a higher note does not mean you change chords.
What I'm trying to say here is that there is no magic formula for learning to hear chord changes. It's guess work, folks, and you learn it one song at a time. And heads up: Looking at the chords printed over the words on a piece of paper is NOT HELPFUL. In fact, it's harmful and gives you the illusion you are hearing the changes when, in fact, you are not.
Small aside: For folks who are really having trouble hearing chord changes, who have little or no musical background, I finally developed an entire DVD titled Learning To Hear Chord Changes. I start at the most basic place possible using easy two-chord songs which I show up how to strum on the banjo as I sing. Learning to play Skip To My Lou, Polly Wolly Doodle, and Buffalo Gals has helped many students get started on hearing chord changes.
If you are just starting to learn to hear chord changes, there will be a bunch of songs that will be too hard for you. Leave them alone! Don't be messing with fiddle tunes which have complex chord patterns that are hard to hear. Ixnay on Blackberry Blossom, Devil's Dream, Red-Haired Boy, Whiskey Before Breakfast, or Billy In The Lowground. Ditto songs that have minor chords (except Foggy Mountain Breakdown) or are in keys other than G (and possibly C). Ixnay on hard banjo tunes like Salt Creek. (I've almost stopped teaching that tune because the chords are so hard.) In the beginning, stay away from songs with more than three chords like Salty Dog, Old Homeplace, or Rocky Top.
As you go through this process, it will get easier. Then one day, you will start to "hear" the changes and you won't even know how you hear them. Folks will ask you, "How do you know when to change chords?" and you will have to say what everyone else has said to you, "I don't know, I just hear the changes."
AFTER YOU LEARN TO HEAR THE CHANGES, you can look back and see that, yes, by golly, there are some "rules" to bluegrass chording. Using the Key of G for an example:
Songs usually start in G.
The last chord is always G.
The first change is often--but not always--to C (so it's a good guess).
Many times, after C, you will go back to G. (So, again it's a good guess.)
The next to last chord is almost always D.
But you can only "see" these rules after you've done your homework and learned to hear the changes to some simple, three-chord songs.
Closing BS: (You can skip this but I've got to find a way to end this article!) As always, friendly jam sessions are a good place to practice chording. The more you listen, the more you watch the guitar player, the more you TRY, then the more you will learn. Don't be discouraged if you can't hear all the chord changes. Every little bit of hearing will help. And if you can't find a jam, there are plenty of teaching materials out there designed for you to play along with. (I've touted Murphy Method stuff enough!) Learning to hear chord changes is incredibly important. Don't neglect it. In fact, I think it would make a fine New Year's Resolution! So, Happy Chord Changing and Happy New Year, everybody! And-a one, and-a two, and-a "Lou, Lou, skip to my Lou...."
---
3 comments on "Those Pesky Chord Changes! By Murphy Henry"

Michael Breeman Says:
Monday, January 13, 2014 @12:04:28 PM
Hearing the chord changes is not a problem but because I can't sing ( my natural key is E but going to B in a simple progression, is nearly impossible) I find that playing along with a CD of a song allows me to quickly find the chords. I also use a Tascam trainer which allows me to slow down the tempo of a song which is very helpfull when having to learn Minor chords. I have really enjoyed this article, thanks very much.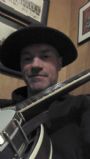 jbgreen Says:
Monday, January 13, 2014 @12:07:13 PM
Great article. Unfortunately, I was hoping there was some sort of formula to hearing chord changes.

Practice. Practice. Practice.

rferg Says:
Saturday, January 25, 2014 @1:28:04 PM
Well put, Casey. Knowing guitar chords helped me so much early on when I first started getting into jams. I couldn't hear the chord changes (I wondered how everyone knew where to go and figured they just knew all the songs). So I just followed the guitar by watching their fret hand. Gradually I started to hear and I think that knowing guitar chords helped speed that process. In addition to listening to the vocals, I also think that it helps to have a good rhythm guitar and a good bass in a jam. I was in a jam last summer, right next to a bass player whom I hadn't met before. He was so great with his passing notes and changes that after a few songs I realized everyone in jam, even those less experienced, could hear the changes. That bass player's timing and choice of notes helped the whole jam.
You must sign into your myHangout account before you can post comments.