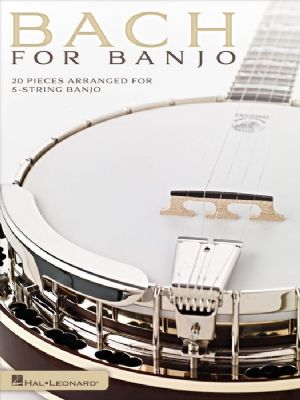 A review: Bach for Banjo: 20 Pieces Arranged for 5-String Banjo, by Mark Phillips, Jon Peik and Jim Schustedt ($9.99, Hal Leonard, 2013).
Music scholars agree: Johann Sebastian Bach never composed anything for the banjo.[i] A virtuoso on the pipe organ, Bach also played the violin, viola, harpsichord, clavichord, and even a prototype of a newfangled instrument called a "piano," although he never composed anything for it, either.
Even so, Bela Fleck, John Bullard, Jens Kruger, Michael J. Miles (clawhammer), Rob MacKillop (tenor banjo), and many others have demonstrated that Bach's compositions lend themselves well to the four- or five-string banjo. (Keep this in mind when friends and relatives ask, "Please, can't you play something other than 'Shove That Pig's Foot Farther in the Fire'?) With a mute, one can almost convince oneself that the banjo sounds like a clavichord.
The newest Bach songbook for banjo is Bach for Banjo, from Hal Leonard. Intended for advanced novice to intermediate pickers, the songbook provides tabs for the most familiar parts of 20 pieces that Papa Bach wrote for other instruments. The pieces are expertly arranged for the 5-string banjo by Mark Phillips, Jon Peik (a BHO member), and Jim Schustedt.
Bach for Banjo is not to be confused with Bach for the Banjo, by John Bullard (also a BHO member), with accompanying guitar arrangements by John Patykula (Mel Bay, $17.99). Nor is it to be confused with Bach on the Banjo, Bullard's impressive audio CD from 1997.
Let's call the newer book P.P.S. Bach, for Phillips, Peik, and Schustedt, and the older book let's call J.B. Bach, or "Bullard's book." Although the two songbooks are similar, there are important differences.[ii]
The most important similarity, though, is that these are true classical interpretations of Bach, not goofy, twangy bluegrass versions. People rarely grin when they pick these ditties, and there are no lyrical references to lost love, the mountains of Kentucky, or dogs and pickup trucks. And both books attribute to Johann Sebastian Bach a piece or two that weren't actually written by him, but that's just a quibble.
The main difference is that the majority of selections in P.P.S. Bach are less technically demanding than in the Bullard book, and thus less intimidating to novice players. Bullard does provide right-hand picking suggestions, but only for selected passages; P.P.S. Bach adds T-I-M advice for every note. Both books will give a workout to your left hand, but Bullard seems to torture it with more of those four-fret reaches and thumb-fretting on the fifth string. P.P.S. Bach, the newer book, mercifully cheats a bit by substituting slides, hammer-ons and pull-offs to avoid, say, fretting on the 16th fret of the 5th string.
Take Bach's Prelude for the Partita No. 3 for Solo Violin, for example. P.P.S. Bach dispatches just the prelude to the prelude, in just three pages of tab, while Bullard annotates the whole shebang over 12 pages. (A third hand would be helpful to help turn pages.) Bach composed this piece as a marathon of advanced bowing technique on the fiddle; those who want to really showcase their banjo chops will probably enjoy Bullard's endurance version.
P.P.S. Bach provides tablature for banjo only[iii]; Bullard's book includes accompanying guitar arrangements on a few of the pieces, and traditional (piano) accompaniment elsewhere. I'm not a guitar player, so I can't comment on the guitar arrangements.
The P.P.S. Bach tablature is, to my eyes, much easier to read. The type is cleaner and more modern and, unlike the Bullard book, the layout doesn't require bouncing your eyes between the banjo and piano notation to determine whether the note is a 16th, an 8th, a quarter-note, and soforth. If you're comfortable reading music and have the tunes already in your head, it probably won't be a problem. For the rest of us it can be a challenge.
The newer book has 20 pieces; Bullard's book has 17. Both books include some of "Bach's Greatest Hits," but there is surprisingly little overlap. But then, Bach was astonishingly prolific as a composer, especially for a guy who also fathered at least 20 children.[iv] The books intersect only on the Minuet in G Major, the Prelude to Cello Suite No. 1, and the Prelude to Partita No. 3 for Solo Violin. The contents of each book are listed below.
Why Bach? It's lovely music, for starters, some of the most sublime compositions in the history of music.[v] It's a delightful break from the kinds of tunes most of us associate with the banjo. Bach's genius is reflected in the fact that so many different instruments have adapted his music and made it their own, not just the banjo, but also mandolin, guitar, even ukulele.
And here's another reason: Learning to play Bach on the banjo will improve your banjo skills and technique, regardless of the kind of music you normally play. Bach's eldest sons told an early biographer that Bach wrote many of these compositions for his students. "The first thing he did," the biographer wrote, "was to teach his pupils his peculiar manner of touching the instrument. For this purpose, he made them practice, for months together, nothing but isolated exercises for all the fingers of both hands, with constant regard to this clear and clean touch. For some months, none could get excused from these exercises; and, according to his firm opinion, they ought to be continued, for from six to twelve months. But if he found that anyone, after some months of practice, began to lose patience, he was so obliging as to write little connected pieces, in which those exercises were combined together."
That's pretty good practice advice for any banjo player, and the authors of Bach for Banjo (as well as the earlier Bach for the Banjo) have been very obliging in arranging these little connected pieces for our favorite instrument.
Bach for Banjo features the most recognizable parts of these pieces:
Air on the G String
Arioso
Be Thou with Me (from the Anna Magdalena Notebook)
Bourrée (from Cello Suite No. 3)
Bourrée in E Minor
Brandenburg Concerto No. 3, First Movement
Gavotte (from French Suite No. 5)
Gavotte (from Cello Suite No. 6)
Chorale (from St. Matthew Passion)
Jesu, Joy of Man's Desiring (from Cantata No. 147)
Keep, O My Spirit
Little Prelude No. 2
Minuet in G (now attributed to Christian Petzold, not J.S. Bach)
Minuet I (from the Anna Magdalena Notebook)
Prelude (from Cello Suite No. 1)
Prelude (from Violin Partita No. 3)
Prelude in C Major (from The Well-Tempered Clavier, Book 1)
Sheep May Safely Graze (from Cantata No. 208)
Siciliano (from Flute Sonata No. 2)
Sleepers, Awake (from Cantata No. 140
Bach for the Banjo (Bullard's book) includes:
Invention #13
Invention #14
Invention #1
Invention #8
March (by Carl Philipp Emanuel Bach)
Minuet in G Major (by Christian Petzold)
Polonaise in G Minor (by C.P.E. Bach)
Minuet in G Minor (by Petzold)
Musette
Minuet in G (by Petzold)
Prelude/Partita No. III for Solo Violin
Bourrée II/Suite IV in E flat Major for Solo Cello
Menuets I & II/Suite II for Solo Cello
Courante/Suite 1 for Solo Cello
Gavotte en Rondeau/Partita No. III for Solo Violin
Bauerntanz/For Two Banjos (by C.P.E. Bach)
Prelude/Suite 1 for Solo Cello
---
---
4 comments on "Go for Baroque! Review of Bach for Banjo book"

Winnieff Says:
Monday, January 13, 2014 @9:13:16 AM
It's really unfortunate that a CD of the 20 arrangements are not included with the book. I would gladly have paid extra for a CD.

Andy

gDGBD Says:
Monday, January 13, 2014 @11:31:42 AM
Mention should be made of P.D.Q. Bach's greatest composition, "Blaues Gras", his bluegrass cantata. Some may be heard here:
youtube.com/watch?v=FNabSidq2XU

jackg Says:
Monday, January 13, 2014 @12:51:55 PM
I also wish that there was a CD with the P.P.S. Bach book. I am working on Jesu Joy Of Man's desiring, and would like to hear how is is supposed to be interpreted.
I have learned Invention #13, Prelude for the cello, and the whole Partita from John Bullard's book. That one took a year to memorize it all, but will probably take twice as long to get it sounding right!
I think I like Bach on the banjo better than bluegrass. Blasphemy!

exvagabond Says:
Wednesday, October 25, 2017 @1:18:37 PM
"Bach's genius is reflected in the fact that so many different instruments have adapted his music and made it their own, not just the banjo, but also mandolin, guitar, even ukulele."

I agree. Bach sounds good on anything, and I hope more banjo players will try it. This PPS book is a mighty good start. Has anybody tabbed Dominico Scarlatti?
You must sign into your myHangout account before you can post comments.