Posted by Joanchek on Wednesday, July 18, 2007
We had a little excitement in the neighborhood tonight. Best as I can gather, the son of the neighbors across the street was stung by a bee and had an allergic reaction. I saw the ambulance pull up and went out to see if there was anything I could do to be helpful--babysit or whatever. My next door neighbors came down from their evening walk to check things out too. While we were standing there in the street, waiting til things had calmed down enough to offer our neighborly assistance, the next-doors asked me if that was banjo music that they'd been hearing wafting up the hill from my house. Why yes, I said, a little sheepishly. That's me. "Well keep on playing!" they said. "We really enjoy listening to you!" And I thanked them and blushed a bit and told them how much I was enjoying learning to play.
Another secret audience member! Yes!
---
4 comments on "Banjo as Neighbors"

PruchaLegend Says:
Thursday, July 19, 2007 @2:15:29 AM
Thank God for neighbors! Positive feedback is really nice. Keep up the good work.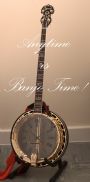 ragitty Says:
Thursday, July 19, 2007 @9:19:14 AM
Congratulations, you must be a pretty good player if your neighbours enjoy listening to you, that is encouragement for sure,

Paul Bock Says:
Thursday, July 19, 2007 @1:21:13 PM
How awesome! You should be proud, and we're certainly proud of you.

twayneking Says:
Thursday, July 19, 2007 @4:16:56 PM
I sit on my porch on Sunday mornings and play the banjo - it's early and the rest of the family hasn't got up to start ragging on me about my playing. I had a couple of neighbors comment that they enjoyed hearing the music coming through the trees. I did, however, freak out a couple of canoers on the lake when I played the intro to Dueling Banjos. You could see them looking around nervously and they paddled away at what seemed a less than leisurely speed.
Tom
You must sign into your myHangout account before you can post comments.