Improvising in music is probably the most satisfying thing you can do. Playing without written music is liberating, and when you develop the ability to play it like you feel or hear, it is the purest form of musical expression. You can take all the hard work you've put into learning techniques and basics and make your own choice of what you think sounds best or is appropriate.
Improvising is not as hard as some may think; in fact, for many it's much easier then having to play something the same way every time. Your first experience in improvising probably was or will be just recovering from a mistake or turning one path into another. The first step in learning to improvise is to "get some chops." The more you know, the more you will have to work with. It's like learning a language; with a large vocabulary, you have the tools to express yourself more completely. You could approach your banjo playing in a similar way by arming yourself with understanding, licks, technical ability, and desire.
Learning to improvise could be as simple as putting your book away and playing without it. If you run out of things you know or remember you may be forced into coming up with your own ideas and, thus, improvise.
In a somewhat tongue-in-cheek or self depricating commentary I could describe my own improvising as learning to improvise when I had no idea what else to do. I would improvise or "wing it" so I wouldn't look like I didn't know what I was doing. Here is a great line an old band mate of mine would say sometimes after his solos on stage and he meant it: "Where did that come from?"
This gets back to ability. The more command you have over your fingers, the more responsive they'll be if you fall off the train and need to get back on quickly or if a musical phrase comes into your head and you want to play it. In this lesson on improvising, as in many chapters in The Banjo Encyclopedia, we will focus on useful tools and methods on which you can build.
Taking What You Know and Turning it Into Ten Things
If for every one thing you know you could turn that into ten different things, you would develop a bag of tricks for improvising in a hurry. They could be, at least to begin with, very small variations. Even if you just changed the direction of the roll from forward to backward in a song over a chord, that would be an example of improvising.
I'm going to use some very simple examples to illustrate, in tablature, how to do this. Keep in mind, though, the most effective way to do this would be to make variations of licks and phrases that you have memorized and are playing by ear. Since I have no way of showing you that directly, I'll write it down for you.
Please memorize some of these and learn the lesson here, which is to take a lick you know and turn it into ten different things or variations. The keyword is know, learn to play the lick by heart and then begin the process of improvising and building on it.
Improvising in Small Steps
As I mentioned above, I recommend improvising in small steps in the beginning. The next playing examples are good ways to develop one idea into many ideas with small steps. You can carry forward this simple concept and approach by taking what you learn from now on and can play without tablature and begin to develop and build on that as a habit. One thing to keep in mind when changing a lick or phrase you already know, what ever you replace it with needs to have the same amount of beats, or "fill the same space" rhythmically.

In the first example, we have probably the first roll you ever learned: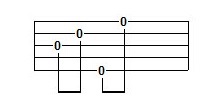 Here we are just changing one note and not the roll. That is improvising! It isn't much of a change, but I hope that illustrates in a simple way that any change to the way you play a roll or always play a song is an improvisation no matter how small.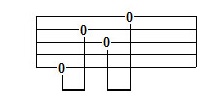 First a forward roll.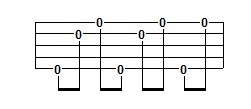 Now a backward roll. This fills this same space, can serve the same purpose, and is different -- which is improvising!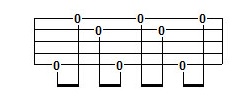 Here is a forward roll over a C chord in the first position.
Here is the same roll over a C chord, but now you are playing an octave higher. The technique in this simple example can be used all over the neck, not just by changing the octave of the chord you're playing but also the chord inversion or position.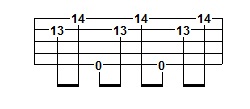 The first example here is a common pull-off lick on the C chord.
Now I'll just flip flop the pull-off. Hey it isn't much, but it beats doing everything the same way all the time.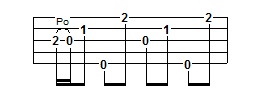 Those examples were very simple, but my purpose was to show you how simple it can be and to encourage you to explore improvising in small steps. My approach and attitude behind that is from seeing many students' eyes get wide and take a deep breath at the mere mention of improvising. Try and get this in perspective and take some of the mystique or the feeling that learning to improvise may be unattainable. Instead, why don't you begin to have some fun mixing it up and doing your own thing?

Thanks again, Ross Nickerson


Learning to improvise over chords
Playing By Ear and Learning the Chords

Building Skill
How to Practice Banjo DVD

Learn Techinques
Banjo Encyclopedia "Bluegrass Banjo From A to Z"

Learn to Improvise by playing along
Banjo Play Along and Practice DVD

Learn more Licks to build from
Essential Banjo Licks DVD


Banjoteacher.com


---
1 comment on "Improvising and Learning to Mix It Up"

bjango53 Says:
Tuesday, December 31, 2013 @2:36:25 AM
Great advice Ross - Thank you
You must sign into your myHangout account before you can post comments.