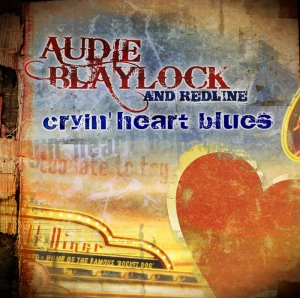 Audie Blaylock and Redline's album "Crying Heart Blues" sounds like Jimmy Martin for the year 2013, and anyone who knows anything about bluegrass would say that's a good thing. Audie is joined by Evan Ward on banjo, Patrick McAvinue on fiddle, and Matt Wallace on bass.
The album kicks off with the hard-charging "Crying Heart Blues" and while admittedly not as powerful a singer as prime Jimmy Martin, Audie has taken the best elements of the classic Sunny Mountain sound and fit them to his own notion, producing something traditional yet contemporary.
"All I Can Do Is Pretend" begins with some beautiful fiddling courtesy of Patrick McAvinue. It is classic honky tonk/grass again in the vein of classic Jimmy Martin and Flatt and Scruggs. Although "Matches" gets slightly repetitive, it does have the cool line "I need some matches, cause I still got one old bridge I need to burn." Audie gets to show off his flatpicking, and the banjo playing (by Evan Ward) cooks. "Can't Keep On Running" is a slow number which finds Audie's voice sounding nice on the higher notes, yet nasally on the lower notes. His voice is a natural tenor voice, and he really shines on the fast "High Lonesome" songs, of which "Can't Keep From Running" is not.
"You Can Keep Your Nine Pound Hammer" is in the vein of classic prison/chain gang songs, and Patrick McAvinue really shines. The song also finds Audie returning to his forte' with some tasteful backup by Evan Ward. "Stay Away From Me" is the classic Bill Monroe song, which features twin fiddles, of which I would suspect was overdubbed by Patrick McAvinue. Audie really hits the high notes on the chorus, to a skyscraping level. Evan Ward even throws in some nice Foggy Mountain Special-type licks on his break.
"Drink Up and Go Home" finds Audie returning to his Jimmy Martin roots, and again, this is the material he really shines on. Nothing overly exceptional in the instrumentation, just solid playing. "Troubles Round My Door" is a nice, bouncy song with nice banjo and fiddle, and vocals by Audie. This would no doubt a good set opener for them.
"Pray the Clouds Away" is yet another Jimmy Martin song, and has a nice groove and some wonderful group harmony. "Let's Part the Best of Friends" and "Talk To Your Heart" really doesn't mine any new territory, it is your standard bluegrass fare (which isn't a bad thing). "He Is Near" is an acappella song, and a very nice change of pace. The band gets to show off their vocal skills, and they sound like vintage Doyle Lawson and Quicksilver. Rummie's Run closes the album on a high note, with some fireworks courtesy of Patrick McAvinue and Evan Ward.
All In all, I would give this album 4 out of 5 stars. I highly recommend this for fans of traditional bluegrass, great fiddle playing, or a throwback to the glory days of bluegrass.
---
Be the first to comment on "Album Review - Audie Blaylock and Redline - Crying Heart Blues"
You must sign into your myHangout account before you can post comments.