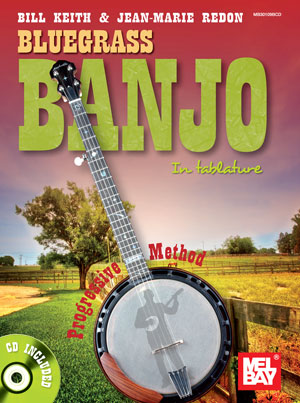 This Mel Bay book is the result of a collaborative effort of Bill Keith - a well-known melodic style banjo player, and Jean-Marie Redon, a talented French banjo player who has recorded two albums under his name. There is an accompanying CD included.
The book has something for all levels of banjo players. My initial impression was that this was a book for beginners, but I soon realized that was not the case as I got a little further along. The authors have included a brief history of the banjo at the start of the book. They have also written a detailed explanation of the banjo parts – including explanations of how each component effects the sound and how to change the sound of the banjo. Other sections include banjo "gear" (ie. capos, strings, picks, straps, tuning pegs), how to tune the banjo and reading tablature. There are quite a few exercises for developing both the right and left hand techniques and there are recordings to play along with on the CD. The exercises start out fairly easy but of course, get increasingly difficult quickly.
If you are interested in music theory, Bill Keith is definitely a player to watch – it was no surprise to see an entire section devoted to theory – scales, building chords (major, minor, 7ths, 9ths), intervals charts, etc. I attended a banjo camp a few weeks ago and had the pleasure of sitting in on a few of Bill Keith's classes. When it comes to theory, he is extremely knowledgeable and I could tell that he genuinely enjoyed teaching it. However, I personally prefer to avoid music theory whenever possible and I spent as little time as possible on this section.
There is also a practice section of this book which has useful licks that can immediately be applied to songs and there are different tabs for the same songs to demonstrate different ways to play the same tune (melody only, classic bluegrass and melodic styles). There are recordings to play along with on the CD.
Now, the fun part – the actual tabs! There are 27 of them in this book. At first glance, I was surprised (and a little disappointed) that I did not know many of these songs. There are only a few that I have ever heard played at jams around here – and I attend jams regularly. MOST (not all) of the tabs have recordings on the CD to play along with. I found this to be a little strange - there was not a recording for each song. Some of the tabs actually had a 'slow' recording and a 'fast' recording to play along with, while others had no recording at all. Some of the songs had a recording of just a banjo playing, while others had a banjo and a bass playing. I think this entire section could have used some more work so that there was a recording for every song, especially since I was not familiar with most of the songs. I personally like having the accompanying bass (or a guitar) on the recordings because I think it sounds so much better. As far as having a slow and a fast version, that's not particularly important to me since slow-down software is readily available.
The book concludes with more scales, many useful licks and endings and a section devoted to banjo players (recommended listening) – the 'innovators', the 'followers' and the future banjo pickers. Overall, there is a lot of useful information in this book. Although I was initially disappointed that I did not know many of these songs, I actually found one song in particular (that I had previously never heard of) that I love to play now. I play banjo in a bluegrass band and we have added this song to our band's 'practice' list and we hope to be playing it onstage soon.
This book can be purchased at MelBay.com >
---
Be the first to comment on "REVIEW: Mel Bay's "BLUEGRASS BANJO Progressive Method" (Authors: Bill Keith & Jean-Marie Redon)"
You must sign into your myHangout account before you can post comments.