My wife and I went camping last week We met up with one of my high school buddies and his wife and their 10 year old son. We took our instruments along. There is nothing like sittin' around the campfire after a great meal of rolled stuffed flank steak done in a dutch oven, and singin and playin some old time banjo tunes for your close friends. Wild Bill Jones just sounds great in that atmosphere. I was never musical until picking up my banjo, so I hope I didn't destroy it too bad when I sang too. Nobody complained though, and everyone seemed to enjoy themselves.
On one day, a lady came over from a campsite across the road and said she thought it was someone playing the banjo and not the radio, like her co-horts said. She said it was pleasant to listen to and wasn't bothering her, she was just curious.
My buddy says he likes "Little Birdie", which I do in a standard C tuning, (gCGBD). He made me play and sing it for his wife after she got back from the shower. I took that as a compliment. He also said I'll have to come up to the EAA airshow campground next week some night and bring my banjo along for some entertainment.
My wife practiced her dulcimer most days and I really enjoyed that too. Some day we are gonna have to figure out how to play together.
Well, O.K., the next really big deal I have coming up is the big airshow in Oshkosh, so bye for now.
---
1 comment on "Camping with the Banjo"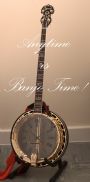 ragitty Says:
Tuesday, July 17, 2007 @5:48:25 PM
Congratulations on your playing, a compliment indeed from a curious neighbour, I see that you are from Fond Du Lac, I used to live and work in "Antigo" (Langlade County) WI so I was not that far from you, WI is a lovely state and I loved my time there. best wishes Lee
You must sign into your myHangout account before you can post comments.