Posted by The Pope on Monday, October 28, 2013
Review of Fults Tri-Bracket system:
This is a review of Bob Fults new Tri-Bracket system of attaching the resonator to the pot of your banjo. The normal way you do this are with what's known as L brackets, named for their letter L shape when looked at from the side. Bob decided that the L brackets were prone to being bent (probably from just handling the banjo, putting in in/out of the case, etc.) and decided that something stronger was in order. Tri-Brackets is what he came up with.
They fit where the L brackets fit & Bob includes screws to mount them with as well. The big difference is that the Tri-Brackets have extra metal that reinforces the joint where the L brackets bend (see photos below).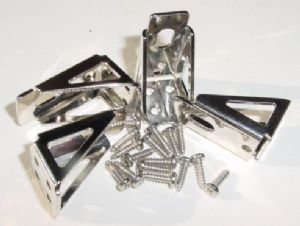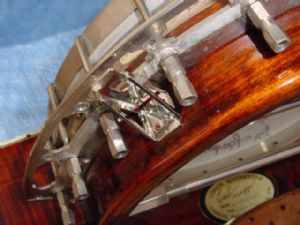 I installed the Tri-Brackets on two of my parts banjos: a Robyn Smith maple neck on a FQMS FF rim & a Robyn Smith mahogany neck on another FF rim (The Pope). They fit perfectly using the same mounting screws that were on the banjos. I tried Bob's screws but they were just a bit bigger than what was on there so I chose to use the existing screws. The L brackets on the maple neck banjo were, in fact, sort of bent and the Fults Tri-Brackets corrected that just like they were supposed to. So the heart of my review would be: They do exactly what Bob says they do!
As to your buying decision, I guess is comes down to how critical (OCD?) you want the construction of your banjo to be? If you were building one from scratch (or having someone else do it), why not? They are priced at $22 with screws. Brackets from FQMS would cost you $14 plus $1.50 for (10) screws. My banjos had two screws on each bracket so if you get Fults Tri-Brackets you would pay a little more but you get 8 screws for your hell box! However, your reso would never be at less than optimum position. If you have a banjo already, I guess it would depend on how fussy you were & how much you like to tinker!
As to how they sound, I made two recordings of each banjo, one with & one without the Tri-Brackets. I know the hazards of sound clips but I went to some lengths to make them the same (except for the Tri-Brackets). I used the same mic at the same distance, same strings, same bridge, no head adjustment, no EQ, etc., so I think the recordings are valid for a test of new parts that don't make you take the banjo apart. (Taking a banjo apart & putting it back together, even with the same parts, will make it sound different no matter how careful you are with the recordings.) Listening to these recordings, I could tell no difference between them so I don't believe the Fults Tri-Brackets are "audible" in any way. Of course, YMMV…
So my review is quite positive, especially if you're constructing from scratch. These Tri-Brackets do exactly what the maker says they do and quite nicely too.
Erik The Pope
---
Be the first to comment on "Review of Fults Tri-Brackets"
You must sign into your myHangout account before you can post comments.