Posted by The Pope on Friday, October 25, 2013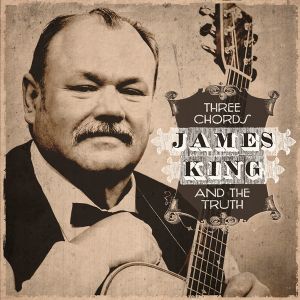 The title comes from a remark made by Harlan Howard when asked to define country music: "Country music is three chords and the truth."
The first time I listened to this, I thought it sounded pretty country but with a real bluegrass edge. Then I went to the Rounder page and read that it was indeed a tribute to the "old" country music, you know, the kind with pedal steel and fiddle, the kind you don't hear any more on "Country Radio". Some of these songs will probably end up in our band's (The Notorious Shank Brothers) repertoire as we do a few old country tunes in bluegrass style. (Send Me The Pillow That You Dream On, She Thinks I Still Care, Pick Me Up On Your Way Down, etc.)
James was probably the correct choice as a singer. I've seen him live a couple times and he gets a lot of emotion in his songs. Of course, having this band to work with is a big plus as well. They did a good job of translating country into bluegrass but not losing the emotion in the tunes.
As far as the recording goes, I'm not sure if they did this live or track-by-track but I thought it was done very well. "They" say that you get a more cohesive performance and sound with the band all in the room but then if someone makes a grievous mistake, you have to do the whole song over (because of leakage in to any open mics). With track-by-track, only the person making the mistake has to do it over; however you lose the cohesiveness. (Then there is the other thing you have to decide: do you mic it all with one or two mics like Del & The Boys or do you mic up each instrument with the best mic for said instrument?)
Everyone on this CD is a great musician, of course! All the instruments are recorded well & the CD is very "present" throughout. The banjo especially stands out (but then I'm a banjo player so…). The CD sounds bluegrass even though they are country songs. Maybe bluegrass songs are about murder but country songs are about regretting those murders!
Tunes:
The Devil's Train (Cliff Carlisle & Mel Force) – Ron Stewart plays real nice banjo on this one. (I wonder if it's Skillethead?) Also, a nice guitar solo by Josh Williams and a Jimmy Martin ending to finish up this song. Oldest song on the CD & put out by Hank Williams in 1949.
Jason's Farm (John Thomas Adrian) – A tale of a guy who finds his ideal wife & then loses her to childbirth, quite scary. This one gave me chills.
Chiseled In Stone (Max Barnes & Vern Gosdin) – "Another piece of heaven gone to hell" is how this one starts. A tune about not missing someone that's still alive.
Highway To Nowhere (Jim Hess) – Good banjo on another highway song: "I guess I don't understand the signs" with a JD quote from Jimmy Martin's Hold What You Got.
Talkin' To The Wall (Warner McPherson & Bill Montague) – First time I heard this I thought it was like old-time country music (this was before I had looked at the Rounder announcement about it) and Ron plays some nice backup. Walking bass & twin fiddles, too.
He Stopped Loving Her Today (Bobby Bradock & Claude Putman) – A (the?) classic country song about a man that dies still loving his lost love. James puts a lot of emotion in this! Nice back-and-forth with fiddle & mandolin on solo. A George Jones classic!
Blue Blue Day (Don Gibson) – Another classic country tune that I remember because it was sort of cross-over hit. Brings back memories & nice banjo lead/backup.
Riding With Private Malone (Wood Newton & Thomas Shepard) – This tune tells the story of a guy buying a Corvette, crashing it & being rescued by the ghost of the original owner, Private Malone. Newest song on the CD.
Things Have Gone To Pieces (Leon Payne) – Good banjo solo & backup à la pedal steel. Everything goes wrong for this guy!
Sunday Morning Christian (Harlan Howard & Lawrence Reynolds) – Bad used car, outside lover, etc., but if you go to church on Sunday, you're all right…
Shadows Of My Mind (Edward Collins) – Nice walking bass & a nice guitar solo from Josh. Another country "heartache" song about someone from the past.
Old Five And Dimers (Billy Joe Shaver) – Real nice intro from Ron & he does a fantastic solo after another Josh guitar burn-down. This could have been a BG song from the get-go.
So I give this CD a top grade (10) because it sounds bluegrass even though it isn't, is recorded & produced well and does its stated purpose. Not many I would give this rating to, either…
From Rounder Records website:
James King, the "Bluegrass Storyteller," may have given us his best album yet! Broadly inclusive of tastes ranging from traditional bluegrass to old school honky-tonk country, 'Three Chords and the Truth' is a landmark album in an already outstanding career, with songs perfectly suited to King's trademark expressiveness and raw emotional style. Complemented by ideal harmony partners Dudley Connell and Don Rigsby, King is brilliantly supported by the instrumental dream team of Josh Williams on guitar, Jimmy Mattingly on fiddle, Ron Stewart on banjo, Jesse Brock on mandolin, and Jason Moore on bass. Ranging from cult classics to old C&W favorites, this is music that fulfills the promise in Harlan Howard's now-legendary definition of country music: 'Three Chords and the Truth.'
---
Be the first to comment on "Album Review: James King - Three Chords And The Truth"
You must sign into your myHangout account before you can post comments.