Edd Wolford was one of the most highly-respected banjo players in the southeastern KY and southwestern VA areas. Gifted with creativity, taste, and a unique 3-finger roll that enabled him to play songs at breakneck speed or gracefully slow, he never got the national acclaim that his musicianship so richly deserved. This article will shed light on who Edd Wolford was, and why his name still reverberates to this day in Kentucky and Virginia.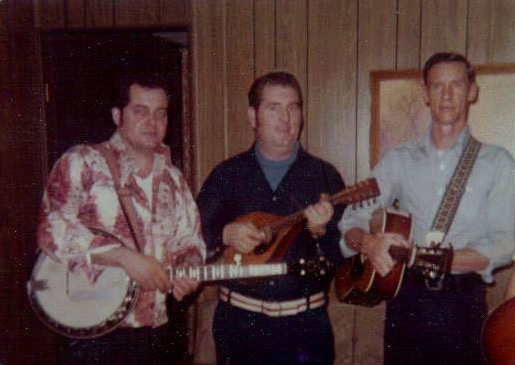 (From left to right, Edd Wolford, Jerry Dotson, Darrell Tester)
Edd Wolford was born in Woodman, KY in 1940. Very little is known about Edd's early years, and it is unclear at exactly what age he started playing the banjo. What is known is that Edd frequently mentioned another local picker who inspired him, Walter Hensley. Walter went on to find notoriety in the Baltimore, MD area with Earl Taylor, and later under his own name. Edd often spoke of how honored he was to be from the same hometown as Walter, and Edd no doubt learned a lot from Walter himself, and later on, Walter's recordings.
Edd met his future wife Shirley sometime in the late 1950's. They were married in 1960, and soon welcomed their first child, a son they named Randy, followed by a daughter they named Patsy. With a growing family, Edd's musical aspirations were put on hold. Like many young men who stayed in the south during the 1950's and 1960's, Edd went to work in the coal mines, where he worked until his death. However, he continued to play at home and in local bars, and became known locally as "Banjo Man." This would continue through the early 1970's, at which time, he met Johnny and Dean Jackson from Hurley, VA.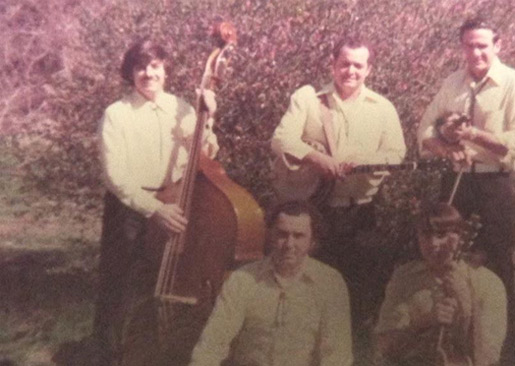 (Kneeling: Johnny Jackson, Dean Jackson….Standing: Raymond Webb, Edd Wolford, Boone Estep)
Johnny Jackson remembers meeting Ed for the first time. "I was in a store and overheard 2 of my friends having a friendly argument over who was the best banjo player from this area... one of the friends mentioned Edd Wolford, and I thought to myself, if he's that good, I'd like to meet him. I got directions to his home, and my brother Dean and I pulled in his driveway and honked the horn. He came out and I said "We want to pick some with you." So he got his banjo and came out in the front yard. I said "What do you wanna pick?" and he said "How bout 'On and On'?" And as soon as I heard him kick the song off, I knew he had something special that no one else around here had."
They were billed as "The Jackson Brothers and Edd Wolford" and soon became one of the most popular groups in Southwest VA and Kentucky. It was during this time that Edd began to harness his vocals skills and soon became an exceptional tenor singer. The band decided to make some recordings and contacted a local man named Ed May who owned a small home studio. They recorded mostly traditional, standard bluegrass songs, but what set them apart were Edd's banjo breaks, which were constantly getting better with each song. He contributed a manic break on "I Know You're Married", amazing speed on "Goin' To Georgia", and displayed his mastery of the Scruggs-style with "Reuben." His most inventive break, however, was the quick turnaround on "Precious Memories." His break is a true "dancing-on-the-edge" moment where you are sure he's going to lose it, yet he remains 100% in control. Also during this time, he formed a side project with Jerry Dotson and Darrell Tester called "The Down To Earth Grass" and contributed a tasteful break on their recording of "Down Where the River Bends."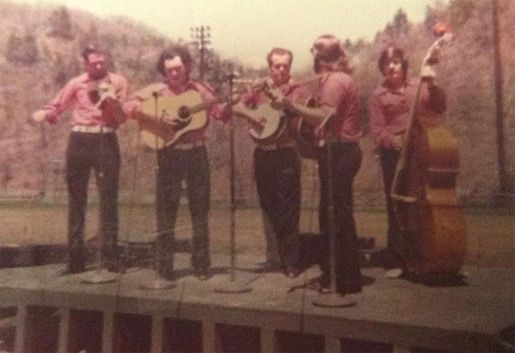 (From left to right: Boone Estep, Johnny Jackson, Edd Wolford, Dean Jackson, Raymond Webb)
The Jackson Brothers and Edd Wolford spent most of the 1970's and 1980's gigging up and down the east coast, sharing the stage with Ralph Stanley, Jimmy Martin, Don Reno, and the Country Gentlemen. However, just as things began to click for them, tragedy struck. Edd's health began to deteriorate after a lifelong battle with alcohol. Like many southern boys from that day and time, what started out as fun on the weekends turned into full-blown addiction. Edd succumbed to liver cancer in 1990.

Edd Wolford will always be remembered in KY and VA as a banjo player of the highest order. His fluidity, grace, and touch on the banjo has seldom been equaled, before or since his passing. For anyone who is interested in hearing Edd's playing, please contact me at stiltner_jaymz8604@yahoo.com for recordings.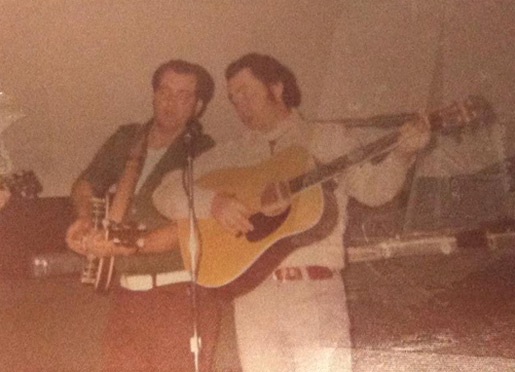 (Edd Wolford and Johnny Jackson)
Listen to more of Edd Wolford's playing:
---
15 comments on "The Edd Wolford Story"
You must sign into your myHangout account before you can post comments.