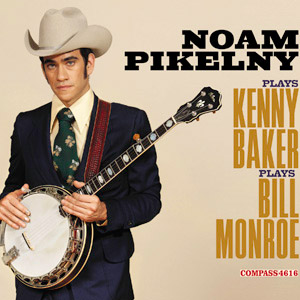 Released Oct 1, 2013.
Banjo: Noam Pikelny
Guitar: Bryan Sutton
Bass: Mike Bub
Fiddle: Stuart Duncan
Mandolin: Ronnie McCoury
Track Titles: The same songs in the same order as on the original Kenny Baker Plays Bill Monroe LP.
Road to Columbus, Brown County Breakdown, Lonesome Moonlight Waltz, Jerusalem Ridge, Monroe's Hornpipe, Cheyenne, Big Sandy River, Stoney Lonesome, Mississippi Waltz, Wheel Hoss, Fiddler's Pastime and Ashland Breakdown.
When you buy this CD also buy the original Kenny Baker recording (if you don't already have it) to fully appreciate what Mr. Pikelny and this great assembly of players accomplishes on this masterpiece recording. Hats off for great attention to detail in this "cover" of Kenny Baker Plays Bill Monroe. This effort has it all, the notes, style, feel and drive of the original, plus more. Even the CD cover shot was not overlooked - same pose in same style jacket, same white shirt with pointy collar, same big wide tie and that same wonderful taco'd white Stetson hat as on the original cover. A good bit of sly humor is evident on this recording as well as the stellar picking by every artist involved. I believe the band thoroughly enjoyed playing on this project.
Noam Pikelny's banjo playing is precise, exact, rich in detail and hotter than a June bride in a feather bed. His old Gibson top tension is exciting to hear as it responds to the touch of the best banjo player I've heard in a long, long time. He has the command of the five string banjo like Kenny Baker did his fiddle. I found myself going down the road listening to this CD and just smiling, even in the aggravating 5 O'clock Houston traffic.
This is not just a tribute to the great Kenny Baker and his fiddle work. Noam Pikelny and the band takes this set of bluegrass instrumental favorites and renews and recharges them with fresh feel, style and playing excellence. This recording now joins and owns these songs along with Bill Monroe, Kenny Baker and the Bluegrass Boys. I can't not mention the original banjo picking performances of Vic Jordan and Bob Black. These men did these songs great justice. Like I said, get a copy of the original Kenny Baker recording and then buy this recording. You will then own two of the finest bluegrass instrumental recordings on the planet.
Read Noam's hilarious blog post about the genesis of this project >
---
2 comments on "Review: Noam Pikelny Plays Kenny Baker Plays Bill Monroe"

dkfitz Says:
Monday, October 7, 2013 @10:55:23 AM
I have the cd and the autographed poster. I agree with Mike's review 100%.
Dan Fitzgerald

Rick_S Says:
Friday, June 20, 2014 @12:07:43 AM
I love Noam's playing, especially the way he plays fiddle tunes. My only criticism is that the banjo is too low in the mix. It IS a very mellow (and gorgeous sounding) banjo, which is part of it, but I wish it had been further out front on the leads, and more audible on some of the backup. I actually prefer the Youtube videos I've seen of him playing some of these tunes live, because the mix favors him more.
You must sign into your myHangout account before you can post comments.