Posted by caseyhenry on Monday, September 30, 2013
Now that we've got the "by ear" question out of the way (non-believers notwithstanding!) (it was last months' blog post...), let's look further into the method behind my madness (or vice versa!). It's not enough to simply learn by ear--you've got to have some "method and order" to your learning. And that's where the Murphy Method comes in. I've done your homework for you. I've been teaching banjo for over 40 years now and I have a pretty good idea of what works and what doesn't.
First of all, if you're new to the banjo, you need to start simple. And simple does not mean a dumbed-down version of Blackberry Blossom. (Don't get me started on Blackberry Blossom! Okay, I already got me started--we'll talk about that later.) The Big Three in the Murphy Method are Banjo in the Hollow, Cripple Creek, and Boil Them Cabbage Down. Why these three and not three others? Mainly because they are easy to play, sound good slow, and are well known in bluegrass circles. They are also "tried and true." I know they work because I see my students playing them!
But beyond this--and this is where my "method" comes in--these three tunes have licks and rolls that repeat in each song, licks and rolls that build on each other. And because you have learned these licks by ear, you begin to recognize them when you hear them again, even if you don't realize what is happening. You'll probably just be thinking, "Wow! This lick is easy to play."
There is nothing haphazard about the Murphy Method way of teaching. The order of the songs is important. Each song provides building blocks (licks) for the next song. So, not only are you learning songs, you are training your ear--and your hands.
However, many of you on Banjo Hangout are not new to the banjo. Some of you have been playing for years. And from what I am hearing, some of you who are not happy with where you are. You feel stuck but you don't know what to do. You'd like to try learning by ear but you don't know where to start. You already play some songs (maybe even without looking at the tab!) and you sure as heck don't want to go back to square one!
To you non-beginners, here are my suggestions about where to begin learning by ear. Naturally, these are all Murphy Method DVDs but, hey, that's what I do.
If you've been playing for a while (three years or more) and are still tab dependent but can execute basic banjo maneuvers (slides, hammers, pull-offs) and hear chord changes, try our Jam Sessions Standards DVD. Just working with the first song, Earl's version of Roll In My Sweet Baby's Arms, will give you a good idea of where you are in the whole "learn by ear" scheme of things. If you do like I tell you and don't write anything down (no, not even the tiniest notation like "slide 3215"), you may find you already have a pretty good ear. Then you can continue to work through the rest of the DVD (Salty Dog, Mountain Dew, Dueling Banjos, Rocky Top) and then move on to other DVDs and eventually on to improvising.
If, however, you find Roll in My Sweet Baby's Arms too hard, then you need to back up and lay some more foundation. You might want to try our Banjo for Misfits DVD--not that you're a Misfit, of course! (And you can skip Boil Them Cabbage Down.) These songs--Do Lord, I Saw The Light, Worried Man, Two Dollar Bill--are easier to play because the licks come in shorter pieces that are easier to remember and execute. Keep in mind that in this re-beginning of your banjo playing, you are having to teach your brain to "hear" and remember these little pieces of music, these banjo licks. Don't rush the process! Many metaphors come to mind. Like the tortoise racing the hare: Slow and steady wins the race! Or how the cat ate the grindstone: A little at a time!
Some of you--and you may not like to hear this--will need to go back to square one and learn (or relearn) the basics. Foggy Mountain Breakdown, from Beginning Banjo Volume One, may be a cliche in the banjo world, but it's a crucial song for learning the "tag lick" and that ending "D lick." Both will prove important later on in improvising.
And always, learn your vamp chords as you go along. Most are taught along with the song you are learning. Beginning vamping (including the vamping to Foggy Mountain Breakdown) is taught on our Vamping DVD.
And here is what NOT to do, even with the Murphy Method, especially if you've been playing for years strictly from tab. Don't jump in with Advanced Earl, or Ralph Stanley Style Banjo, or even (shudder!) Casey's Blackberry Blossom. These are fabulous DVDs (if I do say so myself!) but these songs are too hard if you approach them without the proper "by ear" foundation. You will find yourself frustrated and then you'll start saying, "This learn by ear stuff doesn't work for me." Ah, but it will if you give it a chance and start in the proper place.
And that brings us back to Blackberry Blossom! And many other tunes, mostly melodic, that beginning banjo players try to learn. (Devil's Dream, Turkey In The Straw, Red Haired Boy, and Whiskey Before Breakfast are all on my @#$%* list!) It breaks my heart to hear beginning banjo students struggle with these tunes. Why? Because, in addition to the tunes being too hard themselves, the chords are too hard for a beginning jam session. And beginners can never play these tunes fast enough to suit players who know the chords! It just ain't gonna happen, folks. So, to put it bluntly, you are wasting your time learning these songs if you are a beginner. Learn something you will actually be able to play.
That reminds me of a story Walt Saunders told me. (Walt writes for Bluegrass Unlimited.) Walt, a professional fire fighter, said that when he sat down to eat his first meal at the fire department, the food was served family style at a big long table with fire fighters sitting on benches along either side. Walt sighted a bowl of mashed potatoes a ways down the table and said to the old guy next to him, "Please pass the potatoes." The guy snarled back, "Eat something in front of you." Walt did!
So, I say to you in that same spirit, "Learn something you can play." Learn the easy songs first, save the harder songs for later. And when later comes, those hard songs won't be so hard.
I have mapped out a suggested order of tunes on our own website, www.murphymethod.com. Here is the Beginning Banjo Track. And here is the Intermediate Banjo Track. Check it out. As my own students will tell you, I'm pretty controlling when it comes to the order of tunes they learn. But, hey, I'm the teacher and that's my job. Thanks for all your questions that prompted this article. Keep 'em coming!
---
6 comments on "Learning By Ear: Method and Order By Murphy Henry"

Peanutscreams Says:
Monday, September 30, 2013 @3:40:37 PM
Great Post! Love the link to the Intermediate Banjo Track as I was wondering where exactly to go next, thank you so much.

The Blackberry Blossom DVD in my library is still unopened, and It's reassuring to know that that's okay. :)

Ready to kick it - thanks again.

Butch B.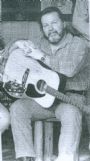 Mick Bear Says:
Monday, October 7, 2013 @11:30:10 AM
Great stuff, Murphy! Thanks! I'm one of those "playing for a long time and am not happy with where I am"! I learned by ear, starting with Dave Guard and the Kingston Trio, for God's sake, and I need help moving into new patterns and licks - it was a breath of fresh air to read this!

thanks!
Mick Bear

geckoz Says:
Tuesday, October 8, 2013 @1:46:34 AM
Hi Casey,

It's been about 12 months since I got started on banjo ( my first string instrument that I learned). The Murphy Method is one of the first instructional materials I got. I am still very inexperienced and can therefore speak from my limited experience.

I had some doubt about the 'learning by ear' method. I learned by ear my first ever instrument ( a Hohner Melodica) and I loved that method. It entailed listening to a tiny piece of the music and then trying to find the right key on the Melodica. It worked and in very little time I could play the tune and of course it was also by then embedded in my brain(let). However, I felt constrained in that I could not read music and so I was dependent on finding the song first and listening to it etc. That was a very slow process. Hence my doubts about this method.

Nevertheless, I am always ready to learn and so I got started with the Murphy Method. In one hour of following Murphy's very patient teaching I learned to play Banjo in the Hollow. After a few practice sessions, I recorded it on video for a banjo teacher of much renown, and he said it was very well played indeed. There you have it :) I then took a break of almost six months from the banjo to learn the guitar, until the banjo's calls for me overpowered my negligence of it, and I tuned it, and the first thing I played on it ( almost without error), was Banjo in the Hollow. It is now a song I keep playing to increase the speed and of course it sound very pleasing to my ears.

It is because of the method of teaching this song, that I was able to retain and embed it into my long term memory. If I had just read the music off the sheet, it would have taken a bit longer to memorize. It would have worked too, but many beginners tend to be impatient and want to rush through it. This then ends in frustration due to inability to remember the song, and that's probably often the end of learning the banjo ( or any instrument).

I have now also added Cripple Creek to my repertoire, thanks to Murphy's detailed and patient teaching. No pain. Just fun and quick results to motivate further learning. Next, Bile them Cabbage Down. This too will be an enjoyable journey and I will feel that I am on my way towards becoming a banjo player - slowly but surely and with good foundation to build more advanced work.

There is nothing to stop anyone from learning to read music notation, and I'm sure many will do that for various reasons. Similarly there is no reason for someone who can read music, not to learn to play by watching, listening and repeating the music as taught by Murphy ( or anyone else who prefers to teach this way).

Definitely, I can vouch for the comment that you make, "learn something you can play. Learn the easy songs first...". Totally agree. Those are the songs that bring quick and enjoyable results without the frustration of reaching too high too early and then saying, " aw! I have no talent."

Thanks for the great introduction to learning to play the banjo. I highly recommend it.

Dan

caseyhenry Says:
Tuesday, October 8, 2013 @9:59:30 AM
Hi Dan,

I'm glad you've had such success with the DVDs. We certainly hope that all students can have as fun and easy a time as you have had. Keep up the good picking!

Casey

bart_brush Says:
Wednesday, October 9, 2013 @3:42:36 PM
Listening and hearing is fundamental to learning all types of music, including those like classical which depend heavily on written music. A few supporting anecdotes from my 50 years as a music learner and teacher, in genres other than bluegrass:
1. From 5th grade through college my formal music studies included clarinet, saxophone, bassoon, choir and classical. Except for choir, these were all private lessons from public school music teachers and college professors, and all were taught from written music notation. However, my teachers always demonstrated the music for me during lessons and recommended recordings. As I got older I would sometimes take a cassette recorder to the lesson. My parents motivated me by buying LPs from the Columbia Record Club, and I was able to borrow others from our local college library: the clarinet works of Mozart and Brahms, bassoon concertos by Mozart and Vivaldi, Big Band and jazz from Benny Goodman and many sax players, classical guitar pieces played by Julian Bream and John Williams, endless selections of choral music. Hearing the music was absolutely basic and essential. My teachers taught me this and it soon became obvious to me--the music exists in the sound, not the written notes. Despite the reliance on written music, the essence of classical instruction is: a more-experienced player DEMONSTRATING to a less-experienced player HOW THE MUSIC SHOULD SOUND. Also, the choice and sequence of pieces studied is of primary importance.
2. In college, my interests turned to folk music and I took up the banjo in 1968. I didn't get anywhere until I found Art Rosenbaum's book OLD TIME MOUNTAIN BANJO and followed his advice to get AND LISTEN TO the original recordings (mostly Folkways) of the traditional mountain players. The tab in Art's book showed me where the NOTES ARE on the banjo, but the recordings taught me THE MUSIC. Art also emphasized the variability in the music and that the tab captured only version; the recordings made this clear.
3. Also in college, I studied African drumming and Indonesian gamelan with musicians-in-residence from those countries. They taught strictly by ear, "listen and copy", and strongly discouraged note taking. Again, there was a logical progression of pieces taught, from simple to more complex.
4. After college I tried teaching banjo for a while in a rural area of upstate NY, and was shocked to discover that most of my would-be students hadn't heard and didn't know anything about traditional music. They'd fallen in love with the banjo music from Bonnie and Clyde, Deliverance, etc., and "just" wanted me to teach them the notes and patterns. When I suggested starting with a simple, standard folksong and asked what songs they knew and could hum without thinking, I was met with blank stares and head scratching. Reminds me of the rock musician who said, "Everyone wants to be a rock star, but not many want to play music." Loving the music and getting it in your head is a prerequisite to playing it, in any tradition.
5. How many times have you heard teenagers and adults say, "I can't sing?" Get them to explain further and it becomes clear that what they are really saying is "I can't sing like so-and-so" or "I can't sing the National Anthem." Well, "so-and-so" is a professional singer with years of training in a highly virtuosic solo singing style, so why would you think as a beginner or novice that you can sing like him or her? And while we should all know and sing The Star Spangled Banner as best we can, it has a wide range and and many leaps between notes, and is not a suitable song with which to judge our singing abilities. However, in most populated areas there are people who would love to get you singing quickly and well with appropriate songs in a proper sequence: community choirs, college-community choirs, church choirs, Barbershop and Sweet Adeline groups, folk music circles, musical theater choruses, and individual singing coaches. Many of these may only work with advanced music and expect you to read music, but keep asking. Our local community college has both a band and a chorus for complete beginners, and is open to students and community members.
6. After 12 years of teaching elementary school music, I am beginning to understand the great wisdom inherent in the methods of teaching children developed by Orff, Kodaly and Suzuki. Look them up online for more info, but the basics of all three are listening, copying, and improvising in a carefully planned sequence of activities.

Jim Stevens Says:
Wednesday, October 9, 2013 @9:53:34 PM
I can't say enough about the Murphy Method. I struggled for 25 years off and on trying to learn how to play the guitar. I bought a Deering Goodtime banjo last year at the Walnut Valley Festival and struggled for 6 months trying to learn clawhammer. I had the finger picks but was afraid to use them simply because I had struggled for so long trying to learn how to fingerpick the guitar. (I did learn a little using the flatpick.)
Then I discovered Rob Bourassa's YouTube videos where he teaches Cripple Creek. I took his advise, practiced just a few bars at a time until I got it and learned it in about 5 weeks. I was elated. I had finally learned something and can play something all from memory. It stuck in my memory, as well as muscle memory. All this and not a bit of TAB. I had become addicted to this style of learning.
I then discovered Murphy and her website. I read the reviews and her recommendations for beginning banjo. I ordered Beginning 1 & 2 and Misfits. I received them in the mail in just 2 days. Within 30 minutes I could play Banjo In The Hollow completely through and without using the DVD. I was absolutely amazed. But even more importantly, I was having fun. LOADS OF FUN.
I have learned a few more songs now and look forward to my time with my banjo.
Thanks Murphy. You have brought me much joy.
You must sign into your myHangout account before you can post comments.