By Skip King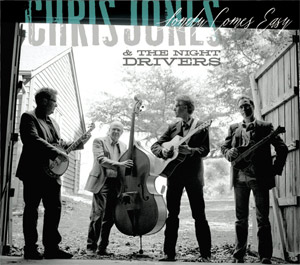 Some bluegrass albums grab you by the throat on the first kick. Others sidle up slowly and ingratiate themselves like a bashful hound dog – and that's the case with Lonely Comes Easy, the new album by Chris Jones and The Night Drivers.
Jones is an affable guy from Nashville – by way of Arizona, Pennsylvania, Chicago, Albuquerque, and upstate New York. He's a 30-plus year veteran of the circuits in the U.S. and Europe who, despite all the mileage, is still perhaps best known as the drive-time deejay of SirusXM's Bluegrass Junction channel.
Jones was first bitten by bluegrass in his early teens while listening to the Stanley Brothers (he describes himself in those days as a "closet lead singer"). His introduction to ensemble playing came largely through the local scene he discovered while visiting his father in New Mexico – a scene informed by California approaches to the genre, including the blistering guitar leads pioneered by Clarence White.
But that was summer. In the winter, he returned east to school, and his mom, in the Hudson River Valley. After teenaged stints in two northeastern bands, got his first serious break with The Special Consensus.
Greg Cahill agreed to pick him up at Chicago's Amtrak station, where Jones was between trains, between parents. Cahill liked what he heard. Jones's rhythm chops had evolved due to solid study of the Stanley Brothers and his own experience backing up fiddle players; his leads were informed by White, Doc Watson, George Shuffler and Keith Whitley. Perhaps most importantly, Jones possessed a rich baritone voice that worked in both lead and trio settings.
Jones remained with Special Consensus until 1985, then joined Pennsylvania's Whetstone Run, which featured Lynn Morris and Marshall Wilborn. A few years later, Jones moved to Arizona to join Weary Hearts, which then moved east to Nashville and quickly broke up as members moved on (Ron Block is now with Alison Krauss and Union Station; bassist Mike Bub went on to play with Del McCoury and is now an in-demand freelancer).
The Night Drivers were formed in the mid-1990s by Jones and bassist John Pennell. According to Jones, his first banjo player – Doug Knecht – is "the least known of banjo players I've had, but absolutely one of the best. Keith Little, who filled in for us on banjo at different times, said that Doug's break on my song 'Model Prisoner' [from the first album "No One But You"] is one of his favorite banjo breaks by anybody."
Over the years, The Night Drivers included a number of rising stars, including Steve Huber and Kristin Scott Benson on banjo; mando and fiddle players Jesse Brock and Jeremy Garrett and bassists Irl Hees and Markie Sanders. Jones was the only constant.
But the current lineup appears stable, and one could argue that The Night Drivers have evolved into something of a bluegrass supergroup, with Ned Luberecki on banjo, Jon Weisberger on bass and Mark Stoffel on mandolin – all veteran players with serious resumes. Stoffel, who Jones met while touring in Germany, is the "newest" member of the band, joining about six years ago. Luberecki and Weisberger have been Night Drivers for more than ten.
That kind of tenure leads to familiarity and, in bands in which the members actually like each other, a high degree of musical trust – nearly a sixth sense of what each member brings. At this level of musicianship, the result is easy familiarity and a recording process that produces remarkable sound with minimal overdubbing. Lonely Comes Easy is polished but unfussy, precise but not overly slick. There's remarkable depth provided by Weisberger's bass, nearly crystalline sibilance from Jones and Luberecki, a remarkably dry, woody tone from Stoffel's mandolin – and great playing all around.
The album opens with "If That Was Love," a wry take on a busted relationship co-written by Jones and Weisberger. The album's sorrowful title track comes next. While bluegrass and country, as genres, are joined at the hip, this one sounds pure country. Jones argues the track is "kind of a blend of bluegrass-influenced California country. But not straight-ahead country. The phrase "lonely comes easy" came into my head, and I pictured the scene of a lonesome guy living in a bachelor pad, trying to make the best of it. We've all been there. Especially us guys."
There's another more-country-than-bluegrass number on the disc, and it's a stunner. "Then I Close My Eyes" is a cryptic song of yearning – sad and sweet, with brilliant banjo and dobro support by Luberecki, and Ivan Rosenberg, respectively. The gorgeous harmony vocals are topped by Emily Bankester. Full of hooks, one can imagine the song a huge crossover country hit – and it probably would be, if there were any justice in the music business.
Band members wrote or contributed to nine of the album's 13 songs, the mix of which is fairly conventional by today's standards – several songs of lost love, a couple of gospel numbers, a song or two of contemplation and contentment, and a couple of instrumentals (including a Luberecki-penned rave-up called "Don't Blink" that shows why he's one of the banjo players that other top players revere).
The album also includes several oddballs, starting with "Your My Family Now," a piece written by Jones, Weisberger and Chris Stuart, which balances neatly on the cusp of sadness and optimism. The inspiration for the song came from, of all places, India.
"I saw a news story about a business there that helped lovers running away from families that wanted to kill them," Jones said. "There are family feuds, religious differences, and sometimes it gets dangerous. That kind of thing happens other places too, and I wondered what it would be like to leave everything you knew and start over. What a terrible choice to have to make."
There's an ingenious re-working of "Wake Up Little Maggie," a traditional piece Doc Watson recorded and performed a capella. Jones also sings without accompaniment – mostly. In this version, the dark minor pentatonic melody is punctuated only by a harmonica (played by Buddy Greene) until the last verse, in which Jones unleashes a subtle but remarkable guitar and bass underpinning. While still singing in a minor pentatonic scale, he adds complimentary and contemporary major chord accompaniment, turning a smoldering song of betrayal and anger into one of wistfulness and regret. Neat trick.
The album's final track gets downright weird. "Wolf Creek Pass" is an old C.W. McCall song (remember the trucker/CB radio song "Convoy?" Yeah, that guy). Jones channels McCoy's deep spoken-word voice in a very tall tale of truckers hauling poultry, the story intermittently offset by a chirpy chorus sung with perfect brass and cheese by – of all people – Sierra Hull and Claire Lynch. It shouldn't be anything more than a throwaway novelty number – and it isn't, until a break in which Luberecki, Stoffel and guest fiddler Jeremy Garrett trade licks in one of the album's most stunning instrumental performances. The whole damn thing works.
"We did it for the challenge," Jones said dryly.
Jones is one of the few current bluegrass frontmen singing in the baritone register, which gives the band an unusual sound. Arrangements and musicianship are contemporary; those who prefer a classic bluegrass sound from newer artists might be better off listening to bands like Junior Sisk and Rambler's Choice. But with Lonely Comes Easy, Jones and his cohorts have dished up some great playing, fine songs and some very interesting musical choices – along with guest appearances by a virtual who's who of modern bluegrass. Lonely may or may not come easy, but the listening surely does.
---
2 comments on "Album Review: Chris Jones and The Night Drivers – "Lonely Comes Easy""

5stringrules Says:
Monday, September 30, 2013 @12:18:11 PM
Skip,
Thanks for putting together this review! I haven't got out and got this CD yet, and I will now. Chris is super nice guy, an honor to have worked by his side for a few years. I hope he keeps having success in his musical career!
-doug knecht

Banjowag Says:
Monday, September 30, 2013 @1:12:23 PM
Can't wait to hear this collection. It's been awhile. Thanks for the background stories on the bandmates, made it more in-depth.
You must sign into your myHangout account before you can post comments.