Posted by tommac on Wednesday, September 25, 2013
Getting ready for a cross country tour with Shady Rill that will take us from Vermont to Nebraska, to Colorado,California,Oregon,Wyoming, New Mexico, Texas and Tennessee. We are still hoping to make a stop in northern Ohio and mid-Iowa on the way out (October 10 &11) so if you, or someone you know would like to host two fine musicians for a house concert or just host two people just passing by, let me know. Heck, as Granny used to say "They're more fun than a stick in the eye."
We may have to get the truck fixed up a bit before we head out!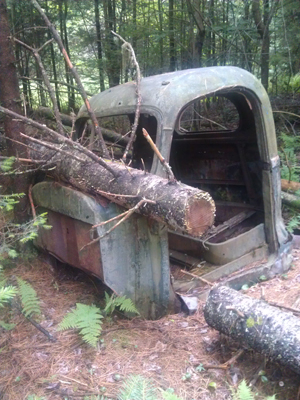 ---
3 comments on "Heading out on the road!"

ITACUD Says:
Wednesday, September 25, 2013 @3:57:57 PM
Needs to be washed before you head out too......

bulldogging Says:
Thursday, September 26, 2013 @1:29:38 AM
Just a little.

JOBOBEDA Says:
Thursday, February 6, 2014 @1:40:35 PM
The way things are goin' today someone should build a chopped down rat rod out of that old pick-um up truck. Hate to see vintage banjos or vintage metal not reach their full potential, altho, makes a nice nature shot.
You must sign into your myHangout account before you can post comments.