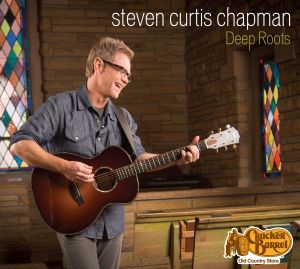 It appears Mr. Chapman got the whole family involved on this latest CD venture. While Steven is largely known for his contemporary gospel music this latest work is a little closer to his Kentucky roots. With classics such as How Great Thou Art and Blessed Assurance his message remains the same. A devout Christian Steven has given his life to singing the praises of the Lord and taking his message to the world through song. This CD does not depart from that.
I had read somewhere that this particular CD had bluegrass influence. Not really. While it is acoustic and there is one cut with a banjo in it, I would not call it "bluegrass" in the truest sense of the word. That aside, it is a wonderful collection of great old classics masterfully sung by Mr. Chapman. While I have never been really fond of contemporized gospel classics, I did enjoy listening to these. The CD is tasteful and the songs remain recognizable. Sometimes singers, in an attempt to revive old classics, modify music to the point it is not recognizable, or barely. It was not the case here.
All in all, Deep Roots is an enjoyable experience that will sooth the weary soul.
---
Be the first to comment on "Steven Curtis Chapman –Deep Roots CD Review"
You must sign into your myHangout account before you can post comments.