Posted by beegee on Friday, September 20, 2013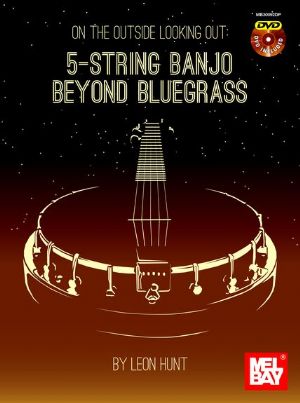 Mel Bay Publishing MB30092DP Price $29.99 USD
DVD included.
ISBN 978-078-668-460-1
The title of this offering is intriguing for someone, such as I, who has been playing for a number of years and is looking for ideas to make his playing fresh and alive and more challenging. As a banjo teacher for over 30 years, I am always looking for new ideas and material that can motivate me to be a better teacher, able to more clearly communicate with and inspire my students. I am primarily a Scruggs-style player who has never been reluctant to steal a good lick from any source.
I had never heard of Leon Hunt, so I was surprised to learn he is on the forefront of UK banjo players who seems to be more eclectic in his musical tastes and approach to banjo. As with many of the "new generation" players, he is indebted to the Scruggs approach, but not locked into it. His playing reflects influences of Bela Fleck and Jens Kruger. He views the 5-string banjo as a more versatile instrument in a broader range of musical conversation. By using a variety of tunes from different genres, he explores alternative voices for the banjo in different settings.
A major temptation in reviewing new material is to jump right in, banjo in hand, and work through the tablature. I would suggest that one not do that, opting instead to completely read the entire book. There are snippets of musical wisdom and experience throughout the text, and important concepts are emphasized in text boxes. One will find that Leon is not a fan of tablature. He is more of a "learn by ear" player. He encourages the student not to become "tablature-bound," but to use it only as a guide to "improvisation and conversation."
The opening pages of the book deal with basic music notation, chord concepts and meter. One convention that he will consistently use is the term of "inversion." While many instructional materials will refer to the basic chord positions of "F, D and barre," Leon prefers, "Root, 1st and 2nd inversion," the latter being less confusing than the former in discussing music theory. He illustrates a simple technique for modifying the root and inversions into minor chords and later discusses minor 7th and flatted 5th chords, etc. Hunt's technique of practicing the various inversions in random keys is very useful and something I have done for years.
Discussing practice techniques, Hunt suggests breaking the tablature down into small bites, learning each precisely and recording one's progress. He says "practice makes permanent." I would say "prefect practice makes perfect."
A side note here: I find one major fault with this book: The tablature is too small to easily read. There is plenty of white space that would allow a larger type-face. The numbers on the tab are just too small to be easily read at any normal distance. Another thing I found slightly disconcerting is that in the video portion, Hunt's right-hand technique is not what I consider optimum. Granted, it works very well for him, so who am I to suggest anything different? But, I find his flat wrist position and curled fingers could be limiting to a newer player who may think that he should emulate that particular style in order to successfully transition into new territory.
A discussion of dynamics, personal style, and ten specific right-hand patterns is followed by a treatise on modes. The mode section is helpful and includes exercises is playing through modes and the use of single-string technique. Another section(Chapter 25) illustrates embellishments which Leon calls "Milking the Notes." These are examples I have never seen included in other instructional materials.
Further discussions of "Nuages" in the specific Hunt tunes get a little boggy, but Leon continues to emphasize improvisation and substitutions such as musical "quoting" as a means to communicate a musical theme.
The DVD includes 33 "chapters" with accompanying tabs. The tabs are standard and offer straightforward transcriptions of the DVD clips, which are easy to follow and are played at a moderate pace.
There is an overview section on amplifying the banjo which may be useful for the gigging musician and musicians who are interested in recording their own progress. Obviously
I would recommend this book for the intermediate player who wants to explore some different ideas in expanding his playing. There will be those who will be tempted to learn each tune note-for-note, but I see this as a valuable resource for examining tone and techniques quite beyond the 8-note roll.
---
7 comments on "Review: On The Outside Looking Out: 5-String Banjo Beyond Bluegrass by Leon Hunt"

budbennett Says:
Saturday, October 3, 2015 @3:48:09 PM
Hi Bob. I have almost bought this book several times but always don't because I don't know exactly what is in it. For example, this video says it is from the DVD/book on youtube but on the Mel Bay site it says it is not (in the video talking about the book).
youtube.com/watch?v=74OqrsVXRFA

would you scan or take a photo of the table of contents or DVD contents so I could know what is in it?
bud

beegee Says:
Saturday, October 3, 2015 @5:43:15 PM
If I can find it. I remodeled my office and I'm still unpacking boxes.

Andy Campbell Says:
Sunday, October 25, 2015 @1:13:36 AM
Hi there Bob

I would be really interested in seeing the contents of this as Mel Bay, who usually always provide them online, has not on this occasion.

Many thanks, Andy

beegee Says:
Sunday, October 25, 2015 @4:41:54 PM
Let me see if I can find it.

beegee Says:
Sunday, October 25, 2015 @5:11:52 PM
OK. found it. You can't approach this book as a simple collection of tunes to learn. It it rather daunting and intended to instruct you in composition, music theory, etc. if you're looking for tabs to master, this won't have a lot of familiar stuff. It does present tunes that will build technique that you must incorporate into your own style.


Fundamentals:tablature, music theory, chord shapes
Bluegrass basics, and Tony Rice bluegrass
Practice Techniques and Regimes
Diddlin' Banjos(Irish Music)
finding your place in music...(groove, dynamics, space and motive)Top ten right hand patterns
More Music theory(extended scale and chords)
Improvisation
Amplification(electronic sond reinforcement stuff)

video had Dixieland sequence
Elzic's Farewell
Sally Goodin'
Bodum high and low parts
Road to Errogie
Riverbend
Fraher's jig
Tarbolton Reel
Eliza Ross's reel
Teeland Highland
Breton Ridee
Cooley's reel
Silver Spire/John Brennan's Reel
Cold quarters
Farewell to Erin
Lunchtime Boredom
Glory at the Meeting House
Off to california Hornpipe
Ruby Murray's
old French
Glenuig's Bay
Soldier's Joy
Scales and Modes
Through the Modes in 3rds
Another well-known pattern through the modes
More ways of climbing up and down the modes
Fractions of chords
Hearts and Flowers
Scarborough Fair
Ashokan Farewell(my note: lacks actual correct chords)
Druidstone
Miles Apart
Nuages
Chinquapin Hunting




birdmanUK Says:
Monday, October 26, 2015 @8:09:40 AM
Bud, you're right, the youtube recording you refer to is not on the DVD recording with the book. I've just checked on my copy. This is a bit odd because the recording on youtube is very much of the set of recordings which is on the DVD - I guess it was a publishing decision for some reason (or maybe a publishing error) not to include this on the DVD, but it's definitely not on my DVD (though Bob lists it above as being included - perhaps it was omitted from early editions in error?)

That said, I would recommend this book/DVD set. What you say "I have almost bought this book several times but always don't because I don't know exactly what is in it." is fair comment. The book is unusual and a little difficult to categorise, but it is very interesting and instructional, and the sub-title "5-string banjo beyond bluegrass" is quite helpful. The book starts off with some bluegrass, and then moves on to celtic, folk and jazz. You won't regret buying it.

Leon Hunt Says:
Monday, October 26, 2015 @9:28:57 AM
A friend just sent me a link to this review, thanks for the kind words. I thought I'd attempt to answer the questions that have arisen in the subsequent comments. Nuages was originally scheduled to be part of this package but sadly Mel Bay couldn't get clearance from Django's estate for it's use. I decided to talk through my arrangement of Nuages (which seemingly kept the copyright lawyers happy), going through the thought processes and concepts, in an attempt to help the reader come up with their own arrangements of the tune, and anything else for that matter. A fairly tall order, but if achieved, even in part, a much better end results an simply learning my arrangement of Nuages and leaving it there. This, in conjunction with posting the video on YouTube, instead of on the dvd was the closest we could get to 'keeping it in'. On the subject of the YouTube video, the entire contents, with the exception of the slowed down versions, of the DVD can be found there too (same place as Nuages but in a separate playlist I think). One comment from the review that I feel requires a response is the right hand technique thing. I believe, because of something that was written in a very popular instruction book many years ago, many people are under the impression that the 'correct' thing to do is arch your wrist, and even straighten your fingers. Many players including Earl Scruggs proved this not to be the case. At the risk of over generalising, it would seem that people with long fingers tend to arch their wrists whilst shorter fingered players opt for a flatter, more compact right hand approach. Once again, thanks for the nice review.
You must sign into your myHangout account before you can post comments.