Posted by Mike Casey on Friday, September 20, 2013
By Mike V. Casey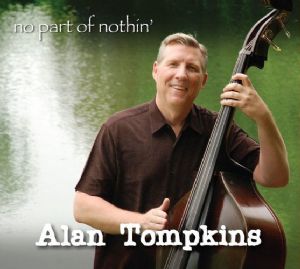 Produced by Alan Tompkins and Gerald Jones
Alan Tompkins: Vocals, Upright bass on all cuts except 1, 2, 5, 10 & 11, Banjo on cut 10
Supporting Musicians: Gerald Jones -mandolin, Randy Kohrs - resophonic guitar, Ned Luberecki – banjo,
Mike Bub – upright bass, Bobby Davis – Upright bass, Stephen Mougin – guitar, Amanda Smith – vocals, Kenny Smith – vocals and guitar, Deryl Dodd – vocals, Ron Stewart – fiddle, banjo and guitar, Nate Lee – fiddle, Sam Bush – mandolin and Billy McCoy – guitar. Three contributing artists, Greg Cahill, Brad Davis and Steve Rhian are listed but not by the song(s) on which they appear.
This is a very nicely produced project of old favorites and two new songs co-written by Alan Tompkins and Gerald Jones. The program set flows very nicely and the performance are all top notch. As you can see from the list of supporting musicians the recording has an exceptional number of A-list artists lending their vocal and instrumental talents to the effort. Two of the selections, Blue Kentucky Waltz and the title cut, No Part Of Nothin' were composed by Alan Tompkins and Gerald Jones. Alan Tompkins whose lead vocals appear on each of the vocal tracks turns in a good solid performance. Mr. Tompkins is an upright bass player and contributes that part on 8 of the 12 songs.
Where this CD stands out to me is in the performances by the cast of long time professional bluegrass musicians who play and sing on this project. Almost every song has a different band lineup which adds a variety of styles to enjoy. One pleasant surprise is that Alan Tompkins also plays the five string banjo and does so on this recording, cut number 10, Lonesome Road Blues.
The CD notes inform us that Mr. Tompkins has a bluegrass radio show on the Dallas, Texas area's KHYI-FM 95.3, The Range. His show is called the Bluegrass Heritage Radio Show. Tune in if you're in the reach of that signal.
He is also a member in good standing of the Pre War Gibson club as certified by Steve Huber and Curtis McPeake, two nice stamps to have on your banjo picker passport.
I enjoyed the very traditional sounding new song by Alan and Gerald Jones, Blue Kentucky Waltz. Excellent job on a very well-composed and played song. And if you like the blues you'll enjoy their other original on this set entitled, No Part Of Nothin'. The Gospel numbers, I've Been Redeemed" and This World Is Not My Home are nicely done too.
This is a very well done, high quality offering with plenty of good picking and singing to offer the listener. It also comes with the famous and much desired Herringbone binding which gives it that authentic bluegrass look as well as sound. I believe anyone would enjoy having this one in their "stack of wax."
---
Be the first to comment on "Review of Alan Tompkins: No Park of Nothin'"
You must sign into your myHangout account before you can post comments.