Posted by wallflower on Wednesday, September 11, 2013
American Banjo Camp Sept. 2013
Once we decided to attend banjo camp, we also decided to explore areas near the camp in Washington State. My husband had a friend on Orcas Island we had not visited so we planned a visit in advance of the camp. Our route from Idaho unfortunately went through the Snoqualmie Pass on Labor Day and put us in heavy traffic. We got to Anacortes late and too exhausted from the drive to explore, so we ate burgers for dinner in the Indian Casino Motel where we stayed for the night. The next morning, we took the ferry to Orcas Island. I could write more about our journeys before camp but in short, the trip was beautiful, Orcas Island and Moran State Park need to be explored more than we had time for and, just the ferry rides alone were wonderful experiences.
In Port Townsend we chose accommodations at Harborside Inn rather than the dorms at camp. The Inn was a little run down and musty smelling but a good choice for us. It was away from the busy area of the "Wooden Boat Show" that was happening that weekend but was close enough to give us access to town to see a bit of the show before camp started Friday afternoon. It wasn't too far from the camp and pleasantly close to the water with a nice view. The disadvantage was that it shortened our jam time in the evenings since we needed to drive back and we probably didn't meet other attendees as we would have if, we were in closer quarters.
Friday, the first afternoon at camp was a bit overwhelming. I picked the first class Cathy Fink offered, a bit above my level but I was able to comprehend most of it. The next class was with Dan Gellert, an eye opener. Then, I was totally amazed by the faculty concert. I'm sure I don't have time in this lifetime to attain the level of skill of the instructors but it was incredibly inspiring to be so close to them and watch them perform.
That first evening, I went to the How-to-Jam workshop with the Canote brothers. I love these guys. They instantly make everyone feel at ease and smile. (The uke class with Jere Canote was also extra fun.) Even though I spent most of my time in awe, I am sure I made the right decision to attend camp. I realized this right away. While there, I tried to take classes with each of the different instructors even if the class was above my level. I would have enjoyed taking more classes with each of them. Never did I feel awkward asking questions and even when I couldn't keep up with the class, I never felt embarrassed or put on the spot. I think Mac Benford felt worse than I did when I couldn't keep up with his class. (Mac, I just need time to work on it.)
My husband took the guitar classes—a really great deal since there were fewer guitar students and lots of individual instruction. We both learned a lot and hope to go back next year. Great instructors. Great experience. Totally recommend.
---
3 comments on "American Banjo Camp Experience"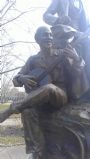 singinandpickin Says:
Thursday, September 12, 2013 @7:44:03 AM
I wish I could go to the American Banjo Camp, its on my "Bucket List" I would especially like to meet Mac Benford and the Canotes.
Its great that you and your husband go together.
Perhaps I'll see you there in a few years if you still go.

yopasjim Says:
Friday, September 13, 2013 @3:03:13 PM
Same here...it is on my list of places to go! Thanks for the report Carol. Maybe I will see you there sometime

banjukebox Says:
Friday, September 13, 2013 @9:52:47 PM
Carol- I remember you from camp. Your comments remind me of my first trip to ABC (last year). Somewhat overwhelming, but inspiring, and encouraging me to continue learning, practicing and preparing for the next camp. This year I was much more comfortable; both camps were challenging and fun. I encourage you to take your experience and use it to help guide you and your banjos through the next several months of playing.
See you again next year.
Pat
You must sign into your myHangout account before you can post comments.