Posted by garman on Monday, September 9, 2013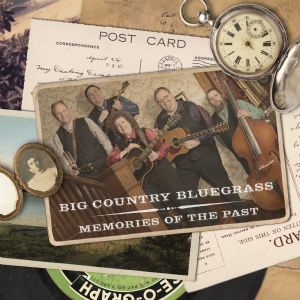 I have listened to bluegrass since the 1960's, so I pretty much like the traditional bluegrass the best. Big Country Bluegrass hits the nail right on the head.
Big Country Bluegrass have performed for over 26 years and produced 17 albums. They know what traditional bluegrass music should sound like, spot on. They have put in the work and time to rise to the top. Their recent nominations by the Society for the Preservation of Bluegrass Music of America (SPBGMA) include:
Bass Fiddler Performer of the Year: Tony King
Guitar Performer of the Year: Eddie Gill
Banjo Performer of the Year: Lynwood Lunsford
Mandolin Performer of the Year: Tommy Sells
emale Vocalist of the Year (Traditional): Teresa Sells
Male Vocalist of the Year (Traditional): Eddie Gill
Vocal Group of the Year
Instrumental Group of the Year
Bluegrass Band of the Year
Entertaining Group of the Year
Song of the Year: "I'm Putting On My Leaving Shoes."
With competition from the likes of the Grascals, Dailey & Vicent, Rhonda Vincent, The Gibson Brothers, Doyle Lawson & Quicksilver they are still one of the top groups in bluegrass.
The top song on the disc ("I'm Putting On My Leaving Shoes") is highly charged and toe tapping music. But all the songs on the album draw fans from many directions as they cover very traditional tunes like "The Little Girl and the Dreadful Snake", "Like the Boys on Music Row" ,"I'm Longing for my Old Virginia Home", to songs of the heart such as "If Teardrops were Pennies", "Won't you think of Me", "Baby You're Cheatin", to songs of pain ("My Time is Running Out" and "99 Years is almost Life".)
As a banjo player I can state that the banjo playing of Lynwood Lunsford is impeccably tasteful. He backs up where he needs to back up with outstanding skill. Listening to this album can show you how playing banjo in a band setting is done. The future of traditional bluegrass is in good hands with the likes of Big Country Bluegrass. This disc is a must have in anyone's collection.
---
Be the first to comment on "Album Review: Big Country Bluegrass - Memories of the Past"
You must sign into your myHangout account before you can post comments.