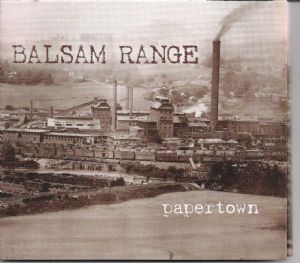 I recently saw Balsam Range live at the Ryman Auditorium in downtown Nashville on July 4th and was excited to learn that I had been chosen to review the band's latest album. Papertown has recently been nominated for the 2013 International Bluegrass Music Award "Album of the Year". The album also contains two songs which have been IBMA-nominated for "Song of the Year" - "Any Old Road (Will Take You There)" and "Papertown".
The band's name refers to the local mountain range where the Great Smoky Mountains meet the Blue Ridge. Balsam Range is made up of five band members - all from Haywood County, NC. Founded in 2007, the band consists of Buddy Melton (fiddle, vocals), Darren Nicholson (mandolin, vocals), Marc Pruett (banjo), Caleb Smith (guitar, vocals) and Tim Surrett (acoustic bass, resophonic guitar, vocals). On this album, Pruett wrote "I could do You Some Good" and co-wrote "Any Old Road (Will take You There)". The band's previous recordings include Marching Home (2007), Last Train to Kitty Hawk (2009) and Trains I Missed (2010). Papertown was released in 2012.
Each individual band member had an impressive musical background prior to Balsam Range (awards are too numerous to list but include Multiple IBMA Awards and a Grammy). The band members have individually performed or recorded with Ricky Skaggs, Bill Monroe, Lester Flatt, David Holt, Doc Watson, Alecia Nugent, Tony Rice, Ralph Stanley, Vince Gill, Jimmy Martin, The Whites and the list goes on. Their extensive experience helped make the band strong from the start.
This group is incredibly strong vocally, with 4 of the 5 band members singing on the album. They not only harmonize extremely well together, but each of the four singers can sing lead, not just backup. Buddy Melton's unique tenor vocal is an easily identifiable part of the group's sound. It's no surprise they were also IBMA-nominated for "Vocal Group of the Year". (On 8/14/13 Balsam Range captured 7 nominations for the 2013 International Bluegrass Music Awards, including "Entertainer of the Year".)
Papertown is the band's fourth album and is named for their local community of Canton, NC. It has a well-balanced mix of ballads and hard-driving bluegrass. Since I play the 5-string, my ear is always initially drawn to the banjo and Pruett's Scruggs-style playing is incredible. He has a unique style with a lot of up-the-neck backup that enhances the songs. Since the band is widely-played on XM radio, I was already familiar with some of the songs on the album such as "Papertown", "Any Old Road (Will Take You There)" and "Wide River to Cross". However, there were some tracks that I heard for the first time when I received this CD to review and they were just as impressive. Overall, the album is incredible and won't disappoint. It's in one of my vehicles and I can't stop listening to it. I'm looking forward to many more albums from this band.
---
5 comments on "REVIEW: Balsam Range - Papertown"

Ks_5-picker Says:
Tuesday, September 3, 2013 @12:05:44 PM
They are one of my favorite bands. I agree with everything you've stated. The singing and instrumentation is superb!

thebanjobert Says:
Tuesday, September 3, 2013 @5:22:44 PM
Nice review, ABC. You know how I feel about Balsam Range - one of my favorite bands. And this IS a great album - among the best I've heard. Thanks!

Spook

vdiazleroy Says:
Monday, September 16, 2013 @5:54:05 PM
I love, love, love Balsam Range. Their harmonies cut right through me. And, you couldn't ask to meet a nice group of guys. Thanks for the review!

TNBanjoGirl Says:
Monday, September 16, 2013 @6:17:51 PM
Thanks for the comments. Balsam Range is currently my favorite bluegrass group. Great vocals!

rgoad Says:
Thursday, November 7, 2013 @10:27:32 AM
You have a cool job!
You must sign into your myHangout account before you can post comments.