Posted by ZEPP on Friday, July 13, 2007
Yep, my wife just had her 28 week ultrasound of our as-yet unborn son. Wow. Not only can we see his little face (check my photos), but we could see him pushing and moving and doing all sorts of cool things (though he wasn't playing banjo today).
He was all jammed into the placenta, so it was a little tricky getting clear shots of his face, but there he was! Looks like my chin and my wife's nose. It was really great watching him open and close his mouth--even stuck his tonque out a few times.
What great technology--I can only imagine what it will be in another 20 years--some of you have a whole lot to look forward to!
---
2 comments on "3D ultrasound is amazing!"

Nelson Says:
Saturday, July 14, 2007 @1:32:36 PM
OMG! Yes! Those 3d things are amazing... I have some of my granddaughter... who is a year old... today... hmm... I have to go make a phone call...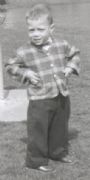 BConk Says:
Saturday, July 14, 2007 @2:52:51 PM
I heard that in 20 years the technicians will be able to tell what the fetus will major in.
You must sign into your myHangout account before you can post comments.