Well, this is it, the day of my big trip. I am so excited. Most of my vacation time is either taken up with me heading home for the holidays or if my parents come out to visit me. As much as I love my folks, I really need some time off just for me.
My buddy Marc moved down to Florida shortly after his dad died three years ago so that he could be closer to his mom. The last time I saw him was at his dad's funeral. The time I saw him before that was a couple weeks after his daughter was born. Her fourth birthday is next Wednesday. Way too long between visits.
So I'm flying out tonight, leaving straight from work (and driving in rush hour traffic up to BWI--what fun), and arriving pretty late. Marc will be picking me up in Tampa. He says we probably won't get back to his place until close to 11pm tonight. I don't care. I can sleep in tomorrow. This is vacation!
I don't think we have any plans except to hang out and have a good time. I did actually break down and buy a swimsuit. I told Marc I wasn't sure the world really needed to see me in a swimsuit, and he said, "You can probably say that about most of the people on the beach." I'm not sure if that's reassuring or not, but I'm sure he'll get me out on a beach at some point.
I told my buddy DP that if I found a job down there I might just stay down there. I miss Marc so much. It was easier when he was in Philly because I could go up on the weekends and hang out if I needed to "get away." I just don't have that many friends around here.
Anyway, just gotta make it through the next few hours at work and I will be on my way. Woohoo!
---
3 comments on "heading to Florida"

PICKING PHIL Says:
Friday, July 13, 2007 @10:35:00 AM
Have fun,fun,fun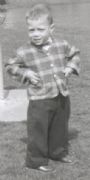 BConk Says:
Friday, July 13, 2007 @12:26:03 PM
I'm jealous - I haven't been in Fla since '95.. I haven't been ANYWHERE since 99.
Have fun Ace - knock 'em dead with your new dippin' duds

Shatfield Says:
Saturday, July 14, 2007 @10:32:42 AM
Have fun!! Don't forget the sunscreen!!!
You must sign into your myHangout account before you can post comments.