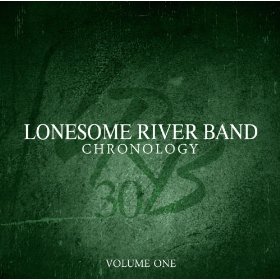 In 2012, Lonesome River Band celebrated their 30th anniversary with three album releases, "Chronology Volumes 1-3" on Rural Rhythm Records. This review is of Volume 1 of the Chronology. It covers the years 1982 - 1992. This CD is what I call a "mini-CD"; that is, it contains 8 songs rather than the usual 12 or more. The price is also commiserate with the lesser amount of music. There may be fewer songs, but the songs they have chosen are well worth the price.
The members of the band include longtime LRB band member and multi-award winning banjo player and Virginia Country Music Hall of Famer, Sammy Shelor, playing banjo and singing harmony, Brandon Rickman on guitar and singing lead and harmony, Randy Jones on mandolin and singing lead and harmony and Mike Hartgrove on fiddle. This group continues as one of the most respected bands in bluegrass.
Of the eight songs, my favorites are "The Game is Over" and "Hobo Blues" that are from the Carrying On the Tradition album. "Hobo Blues" has a high lonesome, bluesy banjo break, along with other breaks from the rest of the band and turned out to be one of my favorites.
"Close the Door Lightly When You Go" really surprised me as I was figuring on a slow, sad love song and it turned out to be a happy celebration of the end of a bad relationship. Everyone should enjoy "Angeline the Baker", with all band members taking breaks – including a bass break. "Old Man in the Shanty" is about an old drunk who befriends a young boy and the good times they enjoy.
For those of you who are trying to learn backup, listen to Sammy's backup. Listen close and learn how to do a beautiful but quiet in the background backup, especially on vocals. I think he's one of the best for backup, and, of course, his breaks are fantastic, too.
This album can be purchased at www.lonesomeriverband.com and also at www.amazon.com.
---
1 comment on "Album Review: Lonesome River Band - Chronology, Volume 1"

riccccchie40 Says:
Monday, September 30, 2013 @4:00:28 PM
id really like to thank you for posting banjo theory .helped alot.richie
You must sign into your myHangout account before you can post comments.