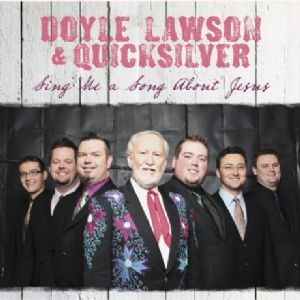 Track Listing:
Little Star
The Rich Man
It Took a Man Like That
I Saw Him Walk Out of the Sky
Never Shall Run Dry
The Greatest Creator
God Can
Be Not Afraid
Jack of All Trades
Going on Home
Sing Me a Song About Jesus
Another excellent gospel CD by Doyle Lawson and his band with Doyle on mandolin and guitar and singing lead and harmony, Josh Swift on dobro and lap steel and singing bass, Jason Barie on fiddle, Corey Hensley on bass and singing lead and harmony, Mike Rogers on guitar and percussion and singing lead and harmony, Jesse Baker on banjo (and on this CD he plays a Hatfield banjo) and guitar and Carl White on percussion and singing harmony.
As usual, the harmony on all the songs was superb and the two acapella songs, "The Great Creator" and "Going on Home", show the depth of these musicians' vocal and harmony talents.
There are eleven songs and I had never heard any of them. If I had to pick a favorite that would be difficult because all of them are great gospel songs and all tell a story worth listening to. The title song, written by Lawson, Hensley and Rogers, "Sing Me a Story About Jesus", is definitely one of my favorites, as is "The Rich Man", "God Can" and "Jack of All Trades".
Three of these songs were written by Randy Swift and one of them by Jeannie C. Riley.
This CD can be purchased at Doyle Lawson's website, www.doylelawson.com or at www.elderly.com .
I would highly recommend this CD if you like gospel music – and I definitely do.
---
2 comments on "Album Review: Doyle Lawson & Quicksilver - Sing Me a Song About Jesus"

Ks_5-picker Says:
Monday, August 12, 2013 @11:17:48 AM
I saw Doyle in Curryville Mo. a couple weeks ago........great show,and great band.

granada40 Says:
Tuesday, August 13, 2013 @8:44:53 AM
Their newest secular project is great too!
You must sign into your myHangout account before you can post comments.