Posted by Kurt Kemp on Saturday, August 10, 2013
By Kurt Kemp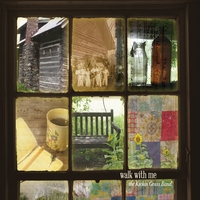 If I had to use one word to describe the Kickin' Grass Band (KGB) I would have to use versatile. Since their inception in 2002 they have continued to produce a number of wonderful works. Their album Walk With Me continues in that tradition. If I had to use one word for this particular album I am not sure I could but, infectious comes to mind. Walk With Me has a majority of original material written by the band's lead singer and guitarist, Lynda Dawson. Lynda's original vocals reminds me of a combination of Judie Pagter from Country Ham fame, Alison Krause and Gillian Welch. She is an accomplished and formidable song writer and there is a message delivered in every one.
Normally, I am a straightforward traditional bluegrass guy. The kind that listens to JD Crowe, Flatt and Scruggs, and the like by default, but from the first cuts of "No One Can Live Forever" that sounds like it came right out of the Blue Ridge Mountains, to the haunting "Ghosts in My Head" to Hank Smith's original composition "Thirty One" I found myself wanting more of these guys and gals. Well, there is more. A lot more. "The Filling Station" with its organ accompaniment (and it works) is an interesting song and you'll find yourself smiling while listening to it. As I sat listening to track after track I wondered how, or rather what, would these folks do to a more traditional tune? They showed me with two traditional numbers: "The Blue Railroad Train" and Bill Monroe's "Roanoke." You won't be disappointed, they do them justice, but its Kickin' Grass kind of justice. I would be remise if I did not also make honorable mention to the fiddle of Pattie Hopkins. This compilation has lots of it…and it's spectacular! Pattie could easily be established as an "industry standard."
Now, for you banjo aficionados, you'll be wanting for nothing (except more) from banjo extraordinaire, Hank Smith. Hank's original composition, "Thirty One", would make Bela Fleck and Jens Kruger proud. It always amazes me how some players can go from tunes with twists of jazz and classical to the loping sound of an Appalachian clawhammer tune with the same perfection and tastefulness. Hank delivers a wonderful blend of every kind of banjo you could ask for.
From start to finish this album is a wonderful blend of all manners of influence. Traditional, contemporary, old time, classical, jazz and even a hint of some Irish folk. All executed with precision by a very versatile and accomplished band. Is it hard driving, traditional bluegrass that blows your hair back? No, but like I mentioned previously, it is infectious. It is a wonderful collection of originals, with a couple traditionals thrown in for good measure, that should please even the most discerning and critical listener.
---
Be the first to comment on "The Kickin' Grass Band – Walk With Me CD Review"
You must sign into your myHangout account before you can post comments.