It's been about a year and a half since I started my own journey to learn to play the banjo. It's been a frustrating ride however, trying to find time to practice, a steep learning curve, and feeling like I'm not making any progress. (BHO has helped ease my mind a little as I've read several other posts of new players experiencing the same thing.)
Last month, I started up again. I made a commitment to playing 20 minutes a day...just 20 min. I'm at the end of my 2nd week. I'm still motivated; my family is starting to remove the ear plugs and say it's starting to sound like music, and I don't feel guilty if I don't spend hours practicing!
I'd be interested in learning about practice habits of other "Newbies" or "Old Timers" that have some sage advice!
---
3 comments on "The 20 min Challenge"

Common Tater Says:
Saturday, June 15, 2013 @10:37:00 AM
Paul,
The short answer (one that I tell my students): learning when to put the banjo down is just as important as learning when to pick it up. Most people, when learning something new - especially those who play by ear - reach their "saturation point" somewhere between 60 to 90 minutes after having started.

There have been times that I haven't played the banjo for months (the reason isn't important for this discussion). Even when not physically "practicing", I "play it in my mind".

For myself, I play for about 45-60 minutes a day (depending upon family needs). Once a week, I do nothing but scales in G, Sawmill, D, Double C and Open C tunings.

If you have a teacher, your question would be a good to ask him or her because the teacher knows you better that most of us do.
Frank

n1wr Says:
Sunday, June 16, 2013 @6:30:42 AM
Paul: Good advice above.

I think what you've experienced is common to many of us beginners. If you stop playing you loose a little bit of what you learned.

For a beginner there is a lot of muscle-brain learning going on, and repetition is the primary way this happens. If I stop even for a short time I notice that it affects my playing, both in speed and accuracy.

Twenty minutes is good if that is all you can get in. If you are working on new material it makes sense to try to get in a couple sessions a day - even ten minutes playing the new tune two or three times a day helps you to get it down. Keep your banjo where it is handy and just pick it up, go through the tune two or three times, and go on with what you were doing. That coupled with the 20 minutes of focused practice could help you a bunch.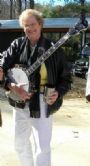 Old 97 Pick Says:
Thursday, October 16, 2014 @1:43:24 PM
Started with Cripple Creek and then added The Old 97! Play them in the evening after dinner and add another tune as I go along. Just a little practice each day truly adds up. Before you know it, your fingers will have developed "muscle memory" and you can just go to sleep while they play the songs for you! Enjoy yourself - that's what matters most :)
You must sign into your myHangout account before you can post comments.