I competed in the banjo contest, sponsored by the Florida Banjo Society, at the Florida Folk Festival, 5.26.13

Sometimes it is obvious which contestants are going to get ribbons, but in this instance, I couldn't tell at all. I was fairly satisfied with my tunes (Mississippi Sawyer and Rock the Cradle, Joe), but a number of contestants played great. It ended with Gordon Scott placing third, and with Gailanne Amundsen (of Jubal's Kin) and me in a tie for first, forcing a rapid one tune play-off. My first two offerings had been elaborate arrangements (for me, anyway) of tunes in the common repertoire. I think Gailanne played Greasy Coat and Chinquipin Hunting. I do remember that they were played with strength and heart.

Contest playing is very different than playing in any other setting than I have been exposed to. No matter how many contests I enter, or how much I try to remain calm, my physiology sees danger ahead, and pours buckets of adrenaline in my system. I know this by my accelerated heart rate, and tremulous fingers. With my fight-or-flight extra alertness, I am able to focus with greater attention to every note and detail, which means I feel more keenly the sting of pain and humiliation for every tiny slip, and there are plenty of them.

I wasn't prepared for another tune! So...I have always been drawn to modal tunes, and Betty Likens has a melody and a mystery that has long intrigued me. She didn't refuse me when I called on her. She arrived with crackle and tension per usual, with more than a suggestion of lurking hazard beneath her deceptively simple outward appearance. She purred and growled, tripped lightly and stamped, and I must confess that it wasn't clear to me who was playing whom.

Round and round we went until our energy was spent and the last tone sounded.

Gailanne played next. I know she played well, but the truth was that I wasn't fully present. I was still climbing out of my own performance, feeling my heart rate slow, and arriving back at the site of our contest amongst the sunshine and shade under the canopy of the marvelous, improbable live oaks. Shortly thereafter the verdict was pronounced and I was proud to stand with Gordan and Gailanne, my friends and fellow banjoists. We received our prizes and off we went. Me to Saint Augustine to meet my wife Sandy for Steve Martin's show at the Saint Augustine Ampitheatre, Gailanne to the mainstage at the Folk Fest to represent the banjo contest and the next adventure around the bend.

My thanks to Tom Wilson, Robert Lanham, and Al Poindexter of the Florida Banjo Society, the Florida Folk Festival, sponsors Gold Tone and Deering Banjos, and the rich Florida community of banjo enthusiasts.
Here is a photo of the three of us. http://www.banjohangout.org/myhangout/photos2.asp?id=43964&photoID=156793&albumid=0
---
8 comments on "Chuck Levy wins first place at the Banjo Contest at the Florida Folk Festival"

dbrooks Says:
Sunday, June 2, 2013 @7:29:51 AM
Congratulations, Chuck. It is encouraging to hear you describe the anxiety and emotions you felt. My one banjo contest convinced me that I was not cut out for that type of pressure. It's good to hear a hint that these cases of nerves seem to affect others than just me.

ChuckJo Says:
Sunday, June 2, 2013 @7:51:58 AM
Thanks for your remarks. I look at contests in part as Zen exercises in self control, self knowledge et cetera, which typically kick my ass, but which provide a potential at learning. Also, contests offer me the challenge to prepare a tune or two that are highly polished and deliberate. I think the contests move me a head a little, but I have never found them easy.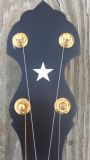 RWJonesy Says:
Sunday, June 2, 2013 @10:47:41 AM
Congratulations Chuck! I enjoyed reading of your emotional experience. I have never competed in any banjo contest but I wouldn't hesitate to do so if given the opportunity.

Torben Pedersen Says:
Sunday, June 2, 2013 @11:56:05 AM
Congratulation to you Chuck. - Well done.

ChuckJo Says:
Sunday, June 2, 2013 @4:48:55 PM
Thanks RW and Torben!


blanham Says:
Monday, June 3, 2013 @3:43:07 AM
It was a real treat witnessing this in person. Chuck, you did some really nice variations that added interest and complexity, yet remained within a traditional mold.

kevinwholmes Says:
Monday, June 3, 2013 @10:24:56 AM
Spiffy! Congratulations.

ChuckJo Says:
Monday, June 3, 2013 @7:02:00 PM
Thanks Kevin and Bob,

Bob, you got exactly what I was going for!



You must sign into your myHangout account before you can post comments.