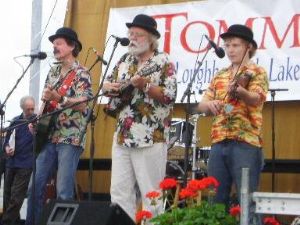 Ted Staunton, Jimmy Bowskill and I recently played a gig at the Greenbank Folk Club as The Maple Leaf Champions Jug Band. The woman who introduced us said,"This band really bridges the generation gap. There's a 45 year age span in the group." Guess which end I'm on.
You also know you're getting old when an instrument that you bought new is now advertised as "Vintage"

I also know I'm getting old when people say, "Happy birthday to Jim, who is ___ years young."

Despite this, I don't feel like an old man. I think music keeps me feelin' young.
---
2 comments on "You know you're gettin' old when..."

Ciao Says:
Friday, May 24, 2013 @1:17:46 PM
Who'd thought that fiddle player was only 5 years old ;-)

Jim Yates Says:
Friday, May 24, 2013 @2:03:54 PM
Thanks Chris...Don't I wish. I don't feel over the hill yet though.
You must sign into your myHangout account before you can post comments.