Posted by pcfive on Saturday, May 4, 2013
I have been recording myself almost every day for over a month now, with Audacity, and it definitely has been getting easier. There is still a long ways to go, but I might eventually get there.
The main problem I had, and still sometimes have, with recording, is that knowing I am being recorded makes me tense. The same thing happens when I am called on for a break at a jam session. Something I could play well when relaxed gets all mangled by the muscle tension.
It seems to me that recording yourself a lot for a while can fix this problem.
I also feel that recording myself and then listening carefully to the recordings is making my playing better.
And now I can do multi-track recordings, which means I can hear how my backup playing sounds, so I can work on improving it. And I can work on improving my singing at the same time. I even got my fiddle out one day and added fiddle tracks. Unfortunately, I just don't have time to work on my fiddle playing.
The only trouble with recording is it takes a lot of time. I have been waking up at 4 am to have time for it, in addition to my regular practice. I can't keep doing that forever.
---
2 comments on "More recording"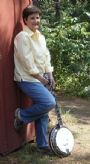 Banjosnob Says:
Sunday, May 5, 2013 @3:42:31 AM
I am trying to figure out Audacity....!!! Do you have an external mike?
Wow, multi-track too. I hope to do this soon.
Lynn

pcfive Says:
Sunday, May 5, 2013 @2:43:17 PM
I used GarageBand a lot, in the past when I had a Mac. So learning Audicity wasn't that hard, because it is similar. If you have not used recording software before, then you can probably find a lot of online tutorials.

Audacity has a lot of complicated features, but I don't use most of them. I don't want to fix up my recordings and make them sound better than my actual playing sounds.

I used to use a very simple free recording program called Final Vinyl. I really like it, except it only does single track.


You must sign into your myHangout account before you can post comments.