After 7 weeks of banjo ownership, the thing is starting to feel more natural sitting in my lap. My fingers on my left hand are callousing up nicely, my right hand is staying in it's proper "claw" position without much effort, and I'm using that knocking motion to pluck the strings and I'm actually hitting them with some accuracy about 80% of the time. Simple tunes are flowing.....at a slow pace, but they ARE flowing. I'm really excited about my progress!! I never thought I would have gotten this far after only two months!
I'm contemplating making a recording to archive where I am musically...but I'm skeered! I've got MIC fright! I guess I have to just put on my big girl pants, and get 'er done, right? ***GULP***
Sassa
---
9 comments on "Hey! This is starting to make some sense!"

philbywan Says:
Friday, July 6, 2007 @12:16:07 PM
I'm at the same point as you, and it is exciting isn't it? I say go for it and upload some audio - I'm about to also!

Sassafrassa Says:
Friday, July 6, 2007 @12:36:38 PM
Hey, philbywan! Thanks for reading. I am going to record...I'm just putting it off. I hope to just DO it this weekend. Good luck with your first attempt, too!

olpete Says:
Friday, July 6, 2007 @12:37:05 PM
Go ahead and make some recordings.Don't be scared.You might find you sound better than you think you do.I find it very helpful to record and listen back.Even though you do hear your flubs you can hear the parts you need to work on.it's encouraging.Let us hear!!!!

Sassafrassa Says:
Friday, July 6, 2007 @12:47:42 PM
Thanks for the encouragement, olpete! I'm sure you are right...it would be a good exercise for me. I'll try it out this weekend. (oops...was that a commitment? now the pressure is on!) ;-)

Nelson Says:
Friday, July 6, 2007 @1:29:35 PM
The really nice thing about recording is that you get to select the stuff that you share with us... not like at a jam where it is just out there. I find that just setting up the mic and letting go for 10- 20 min is the best. After a few minutes you relax and can get some good stuff. Then pick out the best stuff and upload. looking forward to hearing you.

Sassafrassa Says:
Friday, July 6, 2007 @2:19:29 PM
Thank you for the tips, Nelson! Warming up sounds like a good idea. The last thing I recorded was me on my dulcimer, and I didn't warm up first. Scary stuff--deleted immediately! Be assured that I will be VERY selective in what I put up for you guys to hear.

Thanks for the continued support, ya'll. ;-)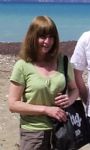 u k sandra Says:
Friday, July 6, 2007 @5:13:34 PM
Sometimes it helps to put the recorder on, then turn your back to it. If you`re anything like me, as soon as I see that little red light my fingers forget what to do. If you don`t want anybody else to hear it, thats fine, but I bet if you listen to it in six months time you`ll see ( or hear ) a big difference.

HoosierGal Says:
Friday, July 6, 2007 @7:05:23 PM
I haven't owned my banjo very long.. and I hadn't picked it up for several days, but when I did.. what I had learned was still natural. I was so relieved! lol I don't have a mic, or even a place to plug one in on my computer, so that's my excuse for not recording. I downloaded the tabview and printed out Beverly Hillbillies.. so.. that's my next big 'learn'. I need to practice chords too.. I just keep doing the fun stuff. For some reason, I love the reverse, and forward reverse rolls.. so I do those and switch on and off from G to C and back. lol.. doesn't sound so great on the forward reverse.. but.. it's practice. Good luck to you. I love the doggy by the way.. very sweet.

Sassafrassa Says:
Friday, July 6, 2007 @8:20:01 PM
Thanks for all the great comments, guys!! BHO is such a friendly place. u k sandra...I like the "red light" idea. I'm a videographer/editor, and when we interview, many times we will turn off the tally light on the camera so people don't know we are recording. It makes things much more natural. Maybe I can get my boyfriend to start my recorder without my knowlege! HoosierGal...I may have one up on you with the mic thing, but I'm way behind on the tab thing. I'm much better at playing by ear. I'm learing where the notes are fretted, and I'm starting to pick out tunes that way. Tab is a bit alien to me...but I'm sure it will come in time! And thanks about my dog....he IS sweet. Hound mix, and such a doll. He's a big boy, but acts like he's still my little 5-pound pup. I hope he never outgrows it!!
You must sign into your myHangout account before you can post comments.