My wife has been in the hospital now for a week and I have been with her for most of the time. The food and service stinks lol
---
5 comments on "I hate hospitals..."

ronhan Says:
Thursday, March 28, 2013 @7:49:55 PM
I understand the difficulty you're going thru Fred. Prayers to you and your wife.

the52blues Says:
Thursday, March 28, 2013 @8:08:51 PM
Thanks a lot. We will get through this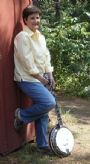 Banjosnob Says:
Friday, March 29, 2013 @5:26:33 PM
I am sure you are a comfort to her.....hang in there...hope she gets better!!

calrod Says:
Saturday, March 30, 2013 @7:12:57 AM
keeping you and your wife in our prayers! Wishing your you and your wife all the blessings that God can deliver get well soon and hope things get back to normal for you.

the52blues Says:
Saturday, March 30, 2013 @7:55:31 AM
Thanks for all the prayers and support. We know God is in control. His will be done.
You must sign into your myHangout account before you can post comments.