Posted by erstokke on Thursday, July 5, 2007
Bought Banjobils mint RK-R80 #60 and got it today. Not a scratch on it, it even smells like new! It has got a Scorpion bridge (as well as the original bridge).
The neck has a very comfortable shape. The fretboard is black ebony with a red/brown beauty spot between fret 18 and 21 - very nice - and shows that it is not dyed rosewood.
The price was less than a new Morgan Monroe MNB-1 or a Goodtime Special - which also are great banjos but not in the same league.
As to setup, sound etc I am not that experienced with Mastertone style banjos, but it seems fine. My wife said it was loud, but when I put on a GoldTone mute she complained that the sound got worse.
I will post sound examples and pictures later.
I understand that people rave about their Hubers, Granadas, Chiefs etc. So Im not saying this is the definitive banjo. But to me, the RK R-80 is all I need for a very long time. Well, if Im not struck by BAS that is.
---
3 comments on "My "new" Recording King RK-R80"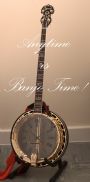 ragitty Says:
Thursday, July 5, 2007 @4:10:27 PM
Congratulations on your new purchase, keep the mute off sounds far better load lol

PaulKirby Says:
Thursday, July 26, 2007 @4:10:50 AM
Hei fra oss her på Høybråten!

Congratulations on your new banjo! Send me a note if you want to jam sometime.

savzac Says:
Wednesday, August 22, 2007 @11:48:33 PM
Congratulations on the new banjo, my RK-80 sure surprised me with it's tone versatility so far. Look forward to hearing yours!
You must sign into your myHangout account before you can post comments.