Posted by corcoran on Monday, February 25, 2013
I first became interested in the banjo when I heard Dave Guard's playing with the Kingston Trio, back around 1960. Now Guard was admittedly not a very good banjo player, at least in my opinion, but he had enough prowess to pique my interest. A guy I knew in my high school, Jimmy Thompson, was a banjo player, as it turns out, and Jimmy introduced me to the playing of Bob Gibson. In fact, Jimmy was pretty much a Gibson clone and could sing most of Bob's songs in an appropriate tenor range as well as play most of Bob's arrangements on the ole five-string. Well, that got me hooked, and I borrowed the money from my parents to buy a banjo, a bottom-of-the-line Gretsch. It was not a very good banjo, but it got me started. I took some lessons from a classical guitarist named Herb Roth who had a rudimentary knowledge of folk style banjo. Herb pointed me to Pete Seeger, and that opened up a whole new world for me. Herb eventually also passed me a tape of Flatt and Scruggs, and Earl Scruggs's playing took over my banjo brain in a way that has persisted to the present. But that's a story for another blog.

For perhaps a year I immersed myself in Bob Gibson and Pete Seeger. Herb arranged for me to take some lessons from guy named Hardy Freeman, a graduate student at the University of Chicago who was a Seeger fanatic. Hardy showed me some stuff of Pete Seeger's that was not in Seeger's book, and he also introduced me to the playing of Billy Faier (e.g., "Green Corn"). All the while, however, I continued to listen avidly to Bob Gibson; to me he was the gold standard. And what a great banjo player he was! His up-picking in Seeger style was inventive, authoritative, and memorable. He played double-thumbing as well as anyone. He could execute an old-time breakdown (e.g., "Block Island Reel"), and he played a flamenco tune for the banjo in a unique and delightful arrangement. His version of what Seeger called "whamming" was as accomplished as anyone's, and he came up with a subtler version of whamming that he used to good effect on numerous tunes – listen, for example, to his playing of "Wayfaring Stranger" on the album "Gibson and Camp at the Gate of Horn". Frailing is about the only folk style I don't recall him making use of. Incidentally, some of Gibson's most inventive and forceful playing was not found in his studio recordings, but appeared on the informal recording from a jam session that was released recently (2011) with the CD of his concert at Cornell in 1957. In any case, I spent hours trying to duplicate aspects of his playing, until, that is, I discovered Earl Scruggs.

Gibson's first recordings emerged around 1956 – "Offbeat Folksongs" on Riverside, and subsequently the Stinson recordings -- on which he pretty much restricted himself to the banjo. His focus on the banjo continued through his later recordings in the 1950s, but by 1959 on "There's a Meeting Here Tonight" the 12-string guitar began to make its pernicious influence felt. By the 1960s most of his playing was focused on the 12 string, although he employed the occasional banjo accompaniment even through his later recordings. Sadly his voice and his playing were stilled by progressive supranuclear palsy, a dreadful neurological condition that eventually killed him in 1996.

So Bob Gibson's excellent banjo playing was featured only in a small window of time, on his recordings from 1956 to 1959. I wish he had continued to feature the banjo in his recordings, although even the limited available exposure to his banjo playing had a profound influence on me and several other players I knew in those days. Whether newer generations of banjo players are even aware of Bob Gibson's banjo prowess, much less are influenced by him, is an interesting empirical question for which I lack relevant data. If you know people who are inspired by his work, please let me know.
---
4 comments on "Bob Gibson's banjo playing"

mainejohn Says:
Monday, February 25, 2013 @9:40:39 AM
I have been a Bob Gibson fan since I first heard him in 1958/59 on "Playboy Penthouse", a local (Chicago) TV show that was hosted by Hugh Hefner. I was hooked by Bob's enthusiasm and banjo playing, as at the time I was in high school, near Chicago, and trying to learn the 5 string, an endeavor that was originally inspired by Dave Guard. I was fortunate to have seen Gibson appear in person twice back then, once at the legendary old Gate of Horn, when he was appearing with Bob Camp, about the time they recorded the benchmark folk album that inspired so many others; Paul Simon, John Lennon, Roger McGuinn, to name three. I have almost all his old LP's and his CD remakes covering his entire career which, as we all know was a bumpy road. If you're not familiar with Pete Curry's (BHO member) excellent books on longneck folk style banjo, you should find a copy, along with his excellent book on Dave Guard's style, both available from Elderly Music in Lansing MI.


Common Tater Says:
Monday, February 25, 2013 @5:55:48 PM
Bob Gibson was, truly, an un-heralded banjo guy. I always enjoyed his playing.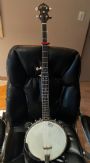 Sean ONeel Says:
Monday, February 25, 2013 @8:22:26 PM
If you listen to Roger (nee Jim) McGuinn's banjo work with The Chad Mitchell Trio and his session work with Judy Collins (most notably "Bullgine Run") the Bob Gibson influence comes through loud and clear. Bob's infuence on me was that when I finally had a chance to put together the Vega Long Neck of my dreams I decided that it HAD to be fashioned after Bob's pre-Seeger longneck featured on the jackets of "I Come For to Sing" and "Carnegie Concert." This is the banjo pictured in my avatar...

You should read the BG bio "I Come For to Sing" -- the story is that he went to Pete Seeger's house in 1953 or therabouts and Pete put him to work, fed him and inspired him...Pete inspired Bob SO MUCH that he used his rent money to by his first banjo!

Bob's daughters maintain an official website that you would enjoy visiting... bobgibsonlegacy.com/
You must sign into your myHangout account before you can post comments.