Elderly Instruments had a 1970s Cortez banjo for sale in January 2013. I have owned a Rich & Taylor Sonny Osborne flat top, as well as a Stelling Red Fox I had made specially with an archtop back around 2001 or so. I like archtops, but I have been without a banjo for some time. I'd bought a Gretsch open-back for $209 with Christmas money back in December, and was in love with banjo again (and that banjo is terrific, too; see my review). I had been able to sell an instrument recently and had up to $2400 or so to spend on a banjo. I wanted an archtop.
I've been under the influence of Geoffrey Miller since reading "Spent" a couple of years ago, and having been a grad student way too long well into my mid-40s, I understand the value of using money wisely, getting as much worth from an investment as possible. I was looking for a bargain. I also love the banjo playing of Allen Shelton, a guy who played a 50s Gibson RB-250 model banjo that most pre-war aficionados scorned for their cheap construction and (I think) 5-ply rims. What I'd noticed for years, though, was that people did not comment on Shelton's choice of banjo much; he's known instead for his incredible playing and personal sound. I began to realize that this sound was coming from his hands rather than just his banjo. Could I do this?
I called Elderly and asked about this as-is Cortez banjo. What would it take to get it into playable, sellable condition? They gave me the skinny, and with shipping I was looking at a $609 investment. I've bought nearly every significant instrument in my life from Elderly, so I said "make it so." Within two weeks I had the Japanese import in my living room. Inspecting it as I removed it from the case, I noticed how much this 70s instrument resembled a new instrument: Elderly had dressed the frets, polished the wood and all the metal parts, even those hidden by the resonator, even the screws on the truss rod plate. It had had very little wear. I was looking at a "new-old" all-mahogany archtop Mastertone copy with about 35 years on it. What would it sound like?
I'd asked Stretch at Elderly to replace the head with a Fiberskyn, thinking this would tone down the likely strident tone of the inexpensive archtop. At first play I didn't know what to think, so I fooled with it a while. As the strings and head started to settle I realized I was in the presence of a perhaps-very-fine instrument. Checking the strap length in the bathroom mirror, the volume of the banjo ran me out of this enclosed space. It was a monster.
Several days have passed now. I've tried it out in all my favorite keys with and without a capo, and using the railroad spikes at 7 and 9. I moved the bridge a few times until my upper-register notes were in tune. It's fantastic! I love this banjo. True, the frets are rather low, so I dig in a bit to get some pulloffs. I'm perfectly happy to do that. It also is a clue that perhaps the instrument had seen some real playing time over the years. I expect a cheap archtop to reveal its basic worth above the 12th fret and betray me with thinness. Does not happen on this banjo. I expected the D-string to sound thin. Does not sound thin. The whole instrument is really well-balanced, both weight-wise and tonally. When I move my right hand toward the neck, there are all those round, cylindrical tones I expect from a flattop. I think Deering makes terrific banjos, but can they make a pro-sounding non-Goodtime archtop and sell it for $600? I'm going to chalk up this purchase as a win for everyone involved.
I don't expect ever to "step up" to another instrument. This one is professional quality. What will make it sound better is my improved technique. This is my last banjo, I think. Whatever I accomplish on the banjo will happen on this one. I've named her Folkerdina. Having had my fiddle and my guitar for years, now at last I have my banjo. I have ordered a Sosebee bridge (the $15 one) to replace the Grover one that came on it. If it's not an improvement, I'll definitely put the cheap Grover back on...I love the way this thing sounds.
---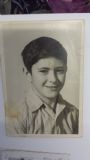 joecitizennn Says:
Friday, August 24, 2018 @9:25:38 PM
would like to see pictures of this banjo
You must sign into your myHangout account before you can post comments.