Due to RH/arm pain I forced myself to leave the banjo alone for 3 days and took lots of Aleve. Had some advice to pick lighter and have more relaxed RH/arm. I'm trying but it's hard.
Just got "Masters of the 5str Banjo" - coo what a masterpiece (tks JJ). Got my nose in that and have just discovered JD Crowe.
This weeks effort, a very slow stab at Pig in a Pen. Needs to be a bit faster and have a tag on the end - this week's aim.
http://www.banjohangout.org/myhangout/media-player/bho-player2.asp?musicid=4134
---
3 comments on "16wks learning - Janet Davis' Pig in a Pen 108bpm"

Bongshang Says:
Sunday, July 1, 2007 @12:29:15 PM
Sounding sweet! That banjo is singin'. Hope the arm is feeling better, and glad you like the book - I must have read it through thirty times, and there's still a lot of stuff to be discovered. Would be good if Messrs Trischka and Wernick did a Vol 2!!!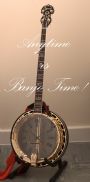 ragitty Says:
Sunday, July 1, 2007 @4:23:49 PM
Hey Patrick, sorry to hear about your arm and hope that you get back to normal soon, clicked on your link to listen to you play, sounding really nice, congratulations,

Old git Says:
Saturday, July 7, 2007 @3:53:53 PM
Hya Pat. I found that free lessons page by Brian A Ramsay. I typed his name into the browser and it brought me to the BHO learning page, dont ask me how I got there. Anyway the Brian Ramsay lessons are there. As i said, I had started to read his stuff and taking the first steps, he is a realy good teacher.
Im going to start from scratch again now, but at least I think the frustration might have gone.
All the best Pat
Terry
You must sign into your myHangout account before you can post comments.