I'm working my behind off as a freelance writer and making truly pathetic amounts of money. I finally managed to convince myself I could spend ten bucks on something I wanted. as a small reward for my hard work. (Note: When you are self-employed, all rewards are small - your boss is always incredibly stingy).
I had a tall glass mug that was my favorite drinking glass. I took it hot out of the dishwasher yesterday, dumped some ice in and poured in some Root Beer. As I was sipping my well-earned diet A&W, I noticed the glass was cracked clear through.
My lamentations attracted the attention of my Sweet Baboo, who comforted me with, "That's what happens, stupid, when you put ice in a hot glass. Don't you ever pay attention to what you're doing?" The rest of the comfort consisted of a succinct evaluation of my general intelligence level and a preliminary diagnosis of approaching senile dimentia.
When I finally decide I'd do something nice for myself as incentive for continuing to work sixteen hour days at sub-minimum wage, I went to eBay. There I found the exact thing to put a smile on my face - a vintage 1960'x A&W Root Beer Mug.
Oh, joy, oh rapture! I punched "Buy it now", drained my Paypal account and a week later was unwrapping my new favorite drinking mug. For the next week, my mug went everywhere with me. I consumed gallons of root beer. I bought a supply of large bore straws just for drinking root beer.
Then about a week later, I pulled my A&W mug hot out of the dishwasher, dumped in some ice and good old A&W root beer and carried it back to my desk. I fished one of my special large bore straws out of my desk drawer and as I pushed it down into my mug I noticed..........................
You are right, Sweetie. I WILL never learn. Apparently I don't just forget, break or damage stuff just to irritate you. Apparently, I am a complete dufus.

And now I have to wait six more months before I can afford to replace my A&W mug. Hopefully by then we'll be moved someplace where we don't have a dishwasher.
Tom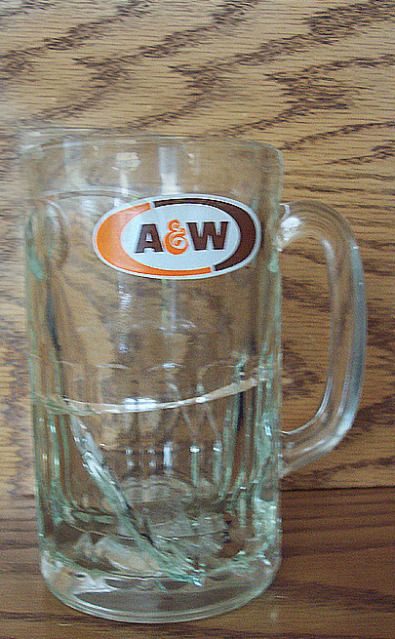 ---
9 comments on "You are Right, Sweetheart. I WILL Never learn."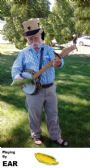 mike gregory Says:
Friday, October 5, 2012 @8:41:22 PM
Get one of those brass disc tags for marking valves & such, and with either a metal letter set, OR the sharp end of a nail and the heavy end of a hammer, cause the words "WARM/COOL RINSE to appear on the disc, and fasten it to the handle.

Then rinse the mug with warm water about a third full,, adding cool water until completely full.
Dump it out, THEN go play with the ice.

twayneking Says:
Friday, October 5, 2012 @10:55:13 PM
That might actually work!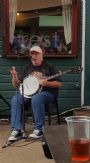 joemac Says:
Saturday, October 6, 2012 @12:46:12 AM
Go to "cafepress.com" they will make you the exact same sticker real cheap but of exelent quality, then you can stick it to the glass of your choice!!!

twayneking Says:
Saturday, October 6, 2012 @6:07:28 PM
I like the antique glasses. The new stuff is from China or some other furrin place. I like the feel of the American made stuff. The new stuff doesn't have the same balance as the vintage mugs.

MiG-19 Says:
Sunday, October 7, 2012 @5:32:06 PM
But Tom, how many of us BHO members have a cool profile picture of us sitting in the nose gunner's station of a B-17? You've got that going for you!

twayneking Says:
Monday, October 8, 2012 @1:56:26 AM
I got to use the Norden Bombsite too. We flew directly over city hall - I could have cleaned out our town's government if any of the bombs in the back had been loaded....

HoosierGal Says:
Monday, February 11, 2013 @11:46:15 AM
two words - plastic cup

twayneking Says:
Monday, February 11, 2013 @2:37:04 PM
Plastic cups are for heathens and unwelcome guests.


HoosierGal Says:
Monday, February 11, 2013 @4:46:16 PM
I love my tervis.. and it won't crack when hot or cold :P. I guess I'm a heathen.. I'm alright with that. lol
You must sign into your myHangout account before you can post comments.