Posted by ZEPP on Sunday, June 24, 2007
Yep--we just got back from our yearly week on Ocracoke island. A marvelous time was had by all. I, being part vampire, don't enjoy baking in the sun, so I look forward to reading and playing banjo, each of which I did (I don't know where the time goes, though, I only got three books read this year). Banjo playing happened--my wife and I even did some banjo duets. She's really gifted--I just wish I could get her to practice!
Anyway, I'm back, and ready to start sticking my nose into the BHO again.
Oh, yeah--I'll post a photo or two, just to prove I was there!
---
2 comments on "Back from Vacation!"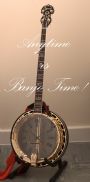 ragitty Says:
Monday, June 25, 2007 @3:42:43 AM
Welcome back Donald, glad to hear you enjoyed your holiday, and got plenty of banjo playing in, sorry to hear that you only managed 3 books this year :)

wkb28791 Says:
Thursday, July 12, 2007 @8:30:14 PM
Man!!! I wish I knew you were there. We took the same week and spent our time between Ocracoke and Frisco. I had my banjo also.

Had a great time!!
You must sign into your myHangout account before you can post comments.