Hi Guys,
I have recently become the proud owner of a brand new Prucha Fall In Love model Banjo.
Until very recently I have never even had the opportunity to even see a Prucha banjo let alone get to hear and play one for myself; so consider myself very fortunate indeed to have had the chance to spend some time in the company of Jarda Prucha himself, plus the opportunity to play a whole host of Prucha Banjos.
I can honestly say that my new Prucha Banjo has unlocked a whole new dimention in my playing. It has helped me become a better player as the banjo reproduces exactly what I want to play. All the Prucha intruments I have had in my hands have a sublime build quality which I have never seen in any instrument before. The banjos neck profile and radius fingerboard make for incredible playability. The tone is amazing, Prucha banjos have a voice all of their own which sits perfectly within the mix of a band but have all the responsiveness and raw attack to blow you're mind at solo time. They say that "beauty is in the eye of the beholder". However, In the case of Prucha Banjos Beauty is in the hands of the banjo picker! They are gorgeous. Put simply, they are perfect.
As I mentioned previously, until recently I have never had the chance to experience these amazing instruments and know that I would have had one years ago if I had. I can only presume that most others in the UK have never had the chance to try one either, because I am confident that if they had, there would be many, many more Pickers who own, play and love Prucha Banjos.
I am passionate about these Instruments and I would like to offer anyone who is attending the Didmarton Bluegrass Festival the opportunity to try out a Prucha Instrument for themselves. Please dont hesitate to seek me out on the festival site, I wont be hard to find....... I'll be the guy with the great sounding banjo!!! ;-)
You'll also get chance to hear the banjo in a live performance situation as I'll be playing my Prucha Banjo for the Down County Boys 11.15pm Friday night show on the main stage.
I look forward to seeing you all there.
Chris Cooper.
---
10 comments on "Try A Prucha Banjo At Didmarton Bluegrass Festival."

Jane C Says:
Wednesday, August 29, 2012 @1:56:46 PM
Hey Chris! Just how much commission are you on? lol.
Seriously though, I tried Black Diamond Point way back, it was gorgeous.

Chris Cooper Says:
Wednesday, August 29, 2012 @2:06:05 PM
Hahaha! No commission Jane, they are superb banjos and I know for sure that if more people got the opportunity to try them, there would be a he'll of a lot more Prucha players in the world. Like I said I'm passionate about them. They really are that good!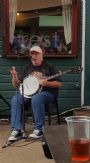 joemac Says:
Thursday, August 30, 2012 @1:45:47 AM
Its good that we as players have different instruments made by different makers, and that as individuals we think they are the best, good compeitition with no clear winner.

Andyincov Says:
Thursday, August 30, 2012 @4:06:37 AM
I'll be there Saturday to Sunday - I'll track you down and have a go.

alanjg1 Says:
Thursday, August 30, 2012 @5:18:39 AM
Chris,
I won't make it to Didmarton.
I'd love to see it. Will you be taking it to the Eagle Music day in November?
I'm a big fan of Jarda's work.

Chris Cooper Says:
Thursday, August 30, 2012 @7:34:56 AM
Hi Alan, indeed ill be at Banjo 2012 with the Prucha, it'll be great to see you there.

Andy, looking forward to meet up with you again.

Andyincov Says:
Thursday, August 30, 2012 @10:40:26 AM
Cool - I'm generally more coherent at these events before 3am so hope to see you before then ;-)

Chris Cooper Says:
Friday, August 31, 2012 @1:02:03 AM
Ha! Yeah, I know what you mean! It's difficult not to get a little worse for wear with the OGRI bar running all night isn't it?! Lol

Andyincov Says:
Monday, September 3, 2012 @1:45:09 AM
Never managed to track you down Chris. However, I did get to play a staghorn and it blew me away. Absolutely deadly.

Chris Cooper Says:
Monday, September 3, 2012 @9:43:20 AM
Lol I did see you on Sunday morning in the cook tent mate, I spoke but you looked a little worse for wear :-) I'd hoped to see you later on the Sunday but unfortunately I had to leave before I got chance.
You must sign into your myHangout account before you can post comments.