Last Friday I came back from Stamford Music Shop lugging a superb Deering Maple Bloosom. I chopped in a resonator, a mandolin, an Ozark five string and a rather good Peavy Rockingham semi-acoustic jazzer and got only a quarter of what they were worth, but I had to have the Deering. It was ordered by a gardener in Birmingham who upped and died the week it arrived! His widow sold it to the guy at Stamford (Lincolnshire). It's virtually unplayed and is the nicest instrument I've ever had - and I've had top-end Gibson and Fender guitars in my time. As a fingerstyle guitarist I find the right hand easy enough, and I'm used to playing open-tuned guitar styles, so the fretboard isn't a total mystery, but I'm just not sure where to go with anything - seeking help, advice and tips from more experienced players. I find I prefer to play with a thumbpick and bare fingers (is this rare?) and I sometimes play with FOUR fingers - interesting for rhythm chores and natural for a guitarist. Happy to swap emails/meet anyone who wants to share experiences. I probably want to end up playing solo - had the band thing in the 60s and don't want to go there again! My email is
sid.langley@gmail.com
- get in touch!
---
4 comments on "The Deering Experience"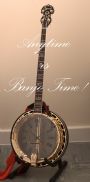 ragitty Says:
Thursday, June 21, 2007 @8:57:37 AM
Congratulations on the purchase of your deering, lovely instruments without dought, I am not the one to help you with your question but at least it gets the ball rolling regards Lee

JLB Says:
Thursday, June 21, 2007 @12:36:35 PM
Hi Sid,
Welcome to the Hangout. I also have a Deering Maple Blossom and love it. I bought it second hand about 2 years ago. I say second hand and not used because nobody had played it hardly at all.
As far your question about learning I would make the suggestion that you decide what style(s) you want to play and then read the Hangout. There are a number of lesson plans available and they are discussed regularly. The "search" function is very useful also. Enjoy your Maple Blossom.
Jim
maryzcox Says:
Thursday, June 21, 2007 @8:20:57 PM
Congrats on your new Deering. I waited almost three years to get my custom GDL (White Shell Laydie), but I absolutely love it!
They make really great banjos--especially in the custom shop!
Best wishes,
Mary Z. Cox

MrNatch3L Says:
Friday, June 22, 2007 @6:29:42 AM
Hey Sid, welcome. If you really want to learn some traditional banjo styles, you should find plenty of advice on the hangout. But I'd also encourage you to draw on your background in finger-style guitar and open tunings, experiment, and see what you can come up with (and of course post MP3 audio of it on the BHO!)

"The Banjo - it's not just for Bluegrass any more."
You must sign into your myHangout account before you can post comments.