This weekend saw myself and the Down County Boys making our annual pilgrimage to Conwy, North Wales for the 24th North Wales Bluegrass festival. As always we had a fantastic weekend packed with picking and although mother nature seemed thoroughly annoyed and sent masses of rain to help turn the field into a bog, everyone still had a great time.
The highlight of my weekend was greeting old friends and meeting new ones in the form of the wonderful people from Eagle Music, www.eaglemusicshop.com and Jaroslav Prucha of Prucha Bluegrass Instruments http://en.pruchabanjos.cz/ who, despite the appalling condition of the ground on which their stall was standing (3-5 inches deep in mud) worked relentlessly to ensure that everyone received the highest standards of service.
I was absolutely delighted to get the chance to play a few tunes with Jaroslav during the banjo workshop I was holding on Saturday morning, he is a great player as well as a maker of incredible instruments. I was truly blown away when I was given the opportunity to play a Prucha Banjo on stage during the DCB's set, and loved every second of the experience. I can honestly say I have never played a banjo which felt so good in my hands, played so well, or sounded so good, the banjo was truly awesome.
I'm sure the people who saw the show and heard the banjo will be interested to know that the very instrument I was playing on stage is brand new and is available to buy from Eagle Music. I guess you'll have to be quick to buy it though, Banjos that good are never for sale for long!
Huge thanks to John and Gill who work tirelessly year after year to keep the North Wales festival running and also to my new found friends at Eagle Music and Prucha Bluegrass instruments, for giving me such a wonderful opportunity and helping to make my weekend particularly special.
---
12 comments on "North Wales Bluegrass Festival 2012."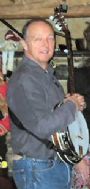 john leary Says:
Monday, July 9, 2012 @2:54:37 PM
Yep, the weather wasn't very good but at least it wasn't cold, and as far as I could see no one's spirit was dampened
The music and jamming sessions around the park was as good as always.

nicecloud Says:
Tuesday, July 10, 2012 @1:24:35 AM
Speaking of mud, I was in the mud for more than 35 years with banjo playing until I met Jarda Prucha.
He realized it and got me out. The banjo never went back into the case. Right next to me all day from may 2008.
I've been very lucky. 5 inches of mud won't stop Jarda Prucha to go and help a banjo player with an instrument
of the best quality he can deliver.

Andyincov Says:
Tuesday, July 10, 2012 @1:47:35 AM
A friend sent a clip of you playing groundspeed - killer sounding banjo!

Chris Cooper Says:
Tuesday, July 10, 2012 @11:48:12 PM
Jean-Marie. Jarda Prucha is a fantastic guy, he worked so hard all weekend and helped numerous people with set up issues whether they owned a Prucha Banjo or not. Several people I know who had Jarda set up their Banjo, described him as "a wizard" and all said, their banjos had never sounded so good. Whats more, he did all that for free!

5stringJim Says:
Wednesday, July 11, 2012 @7:55:17 AM
I really enjoyed the festival this year! Great meeting up with you guys, and getting to pick on a PB7 flathead, and 2 other prewar 3's.
Chris, I'll say it again,mate...you've got the pickin' nailed ! Hard to believe it's only 4-5 years since you started!

Chris Cooper Says:
Wednesday, July 11, 2012 @11:58:09 AM
Wow, thanks Jim! That's great to hear, especially coming from a picker of you're calibre! It was great to see you and I can't wait for next time! Are you doing Didmarton?

banjoscot Says:
Wednesday, July 11, 2012 @12:35:34 PM
Super weekend again, I agree with Jim and thanks for the Sat workshop, Chris. One always learns something new.

Chris Cooper Says:
Wednesday, July 11, 2012 @12:52:58 PM
You're very welcome Ian, I love doing the festival workshops. If you need anything going over again don't hesitate to get in touch.

fivestringlass Says:
Thursday, July 19, 2012 @8:41:13 AM
I didn't realise there were so many festivals in the uk, how often do they run? Do most of them have workshops?

Chris Cooper Says:
Thursday, July 19, 2012 @10:42:52 AM
Indeed the majority of festivals have workshops which usually run in the morning before the concerts and jams start! Festivals are a great place to go if you're just starting out, there is no need to feel daunted, everyone at a festival is friendly and welcoming! The next festival which I am aware of is the Didmarton Bluegrass festival which is one of the biggest. You'll be able to find out more by using google. There are several festivals which run in the UK and all have the same friendly atmosphere.

fivestringlass Says:
Thursday, July 19, 2012 @10:44:37 AM
Thank you, that's a big help :D see if I can pluck up the courage to take myself

Chris Cooper Says:
Thursday, July 19, 2012 @2:10:34 PM
It will be great to see you there, don't forget to say hi! : )
You must sign into your myHangout account before you can post comments.