Posted by pcfive on Sunday, June 10, 2012
I went to a jam session today that I had never been to before. It's general acoustic folk, not specifically bluegrass. It was 4 hours long, and for a while there were a lot of players and even more listeners. I looked out at several rows of listeners and thought Oh know I'm gonna get nervous. But I didn't. Most of the audience were elderly and I have experience performing in nursing homes.
I don't know why, but I wound up feeling more confident when I led songs today than ever before. Maybe because I now have a list of songs that I have practiced a lot. I don't know what it was, but I felt I was singing louder than usual and screwing up less. It really was fun.
Afterwards, one of the players (not a banjo player) said "Your picking is amazing. Are you a professional or something?"
It is possible that he doesn't know what banjo playing is supposed to sound like, and therefore mistakenly thought I sounded good. So I am trying not to be too thrilled about this compliment.
But I still can't help feeling good about it. I work very hard at learning to play banjo. I probably should be spending the time on something more practical, but I can't help it, this is what I love.
I just want to sing and play banjo 24/7.
---
4 comments on "tried a different jam"

privard Says:
Sunday, June 10, 2012 @7:26:21 PM
Actually, a lot of us gravitate to the banjo because we don't sing well, or with much confidence. I'm at a point where I'm getting better at my singing, my banjo playing and my songwriting have been solid for some time. Anyway, congratulations on any improvement you're sensing. If you notice it, it's real. How much any general audience member can sense is another thing entirely.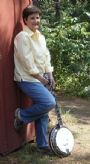 Banjosnob Says:
Monday, June 11, 2012 @3:02:20 AM
The key to it is your "list of songs" you play regularly (that the gang plays too) and practice. Confidence comes with knowing the material "bullet-proof" (Pete Wernick)
Good job!

pcfive Says:
Monday, June 11, 2012 @4:51:08 PM
"a lot of us gravitate to the banjo because we don't sing well, or with much confidence."

I used to sing and play guitar long before I ever started playing banjo. But I never sang in public, and I could not sing loud. I have been trying to learn to sing loud and I think making some progress. I had a feeling they could hear me way across the room yesterday, but I am not sure.

JMalmsteen Says:
Wednesday, July 25, 2012 @6:52:18 AM
That's a nice comment coming from someone in the audience. People don't just randomly say things like that.
What happened to your sound files? I haven't heard you play in a while and would love to hear your progress. Hope to see you at the jam again when we are back in NY!
You must sign into your myHangout account before you can post comments.