I have absolutely no idea of what one is supposed to do with a blog, but I figure it entails some type of generalized conversation to my web-mates. Am I even close?
Anyway, I want to say hey to all the nice folks here on the BHO who have added me to their friends' lists. Even though we have not met in person (well, a couple of us have), I have shared online/offline conversations with many of you fine folks & I must say, you all constantly enrich my life!
So thank you all, so very much! I truly appreciate your friendship & camaraderie! Stay safe & keep on pickin'!!!
Hugs,
Banjo_Robb
---
8 comments on "Howdy to all my Hangout friends!"

HoosierGal Says:
Sunday, June 17, 2007 @4:51:50 PM
I'm just glad I get to be one of the many - hanks for the honor. By the way, love your web site.. what neat ideas!!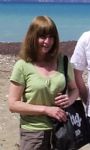 u k sandra Says:
Sunday, June 17, 2007 @5:05:37 PM
I`m also glad to be on your friends list and I agree with HoosierGal. Your web site almost makes me wish I was young enough to need baby stuff but on second thoughts, can you not do a banjo cake instead. I`d sooner have another banjo.

banjo_robb Says:
Sunday, June 17, 2007 @5:09:18 PM
LOL!!! Thanks for the kind words, Ladies!! Yes, I am actually planning on creating a banjo cake..........it's just that the ingredients list is making me crazy!!!

stanger Says:
Monday, June 18, 2007 @3:40:29 AM
Same to you Robb! You are a valued member here, for sure!

banjo_robb Says:
Monday, June 18, 2007 @10:26:36 PM
Thank you Stanger!

GShannon Says:
Thursday, June 21, 2007 @8:26:13 AM
thanks for the link. the honor is, of course, all mine..! :)

Waldo Says:
Sunday, June 24, 2007 @3:18:15 PM
Pleasure is ours! :) Great site you have too!

banjo_robb Says:
Sunday, June 24, 2007 @4:52:08 PM
Thank you, Geoff & Dag!!! I appreciate your friendship AND your kind words!!
;0)
You must sign into your myHangout account before you can post comments.