Posted by ZEPP on Friday, June 15, 2007
Well, really, in Ocracoke. Yep--time for the annual vacation, so I shan't be hanging out at the BHO for a week (I'll be back at the store on the 25th of June). Then, if things are as normal, I'll need a week just to catch up on all the emails & stuff that accumulate in my absence. Thus, if you're trying to get hold of me, please be patient.
Suffice it to say that I shall be taking a banjo with me...forget the sun, surf, and fishing! My idea of a vacation is a cool, dark spot; a banjo; lots of wine; and a stack of books!
See you folks later!
---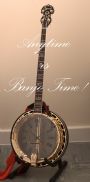 ragitty Says:
Friday, June 15, 2007 @2:24:47 PM
Hey Donald, have a great holiday, the way you described it sonnds perfect, happy pickin'

Stev187 Says:
Friday, June 15, 2007 @11:37:54 PM
Say "Hi" to my mom! She lives in Avon, but spends time fishing on the other island.

Joanchek Says:
Saturday, June 16, 2007 @12:21:00 PM
Sounds perfect, Zepp... have a great trip, a good rest, and travel safely!
You must sign into your myHangout account before you can post comments.