Posted by dgill on Tuesday, May 1, 2012
Thought it was time to share the destination to 16692 Oliver Road, Leopold, Indiana. We are prepared to have people arrive anytime on Friday morning 6/29. We have a hog roast planned for 2:00 PM on Saturday for all who show up. We would ask that you bring what you will need with you and take all back that you brought. Not sure what to expect, but we will do our best to host a great time for you all. Open spots for tent camping and some spots where campers could be parked. We have decided to end the event around noon on Sunday 7/1.
Don't forget to review the notes below. Camping is available with full hook up at Celina and Tipsaw Lakes in the Hoosier National Forest if you prefer that and hotels are available in Corydon Indiana. Less than 20 minute drive from either, if you wish to commute. You should be able to do a search for more info on both of these options.
Last and most important, it is time for us to put a guest list together so please send me a note if you plan to come.. We plan to feed 150 people so come if you can. Any ideas, suggestions or questions, just drop me a note and I will get back to you. Our goal is to provide a place for hangout members and friends can gather, have some fun, eat good and play some music together.
NOTE: I tried to be realistic with invites based on distance. but you are welcome to come.
Sherry and I have decided to throw a jam during the weekend of June 29th, June 30 and July 1. We have sent invites out to many of you, if you can make it, we want to visit, pick and get acquainted. Anyone that would like to come is welcome, We would just ask you drop me a line and let me know so we can plan. We have area around the lake for tent camping and there are some local motels within 24 miles of our home. Bring what you think you need, we will provide a meal for all to enjoy on Saturday around 2:00 CNT. We will have porta pot for your use and showers available in the basement of our home.
I would also ask that any ideas you have to make this a better event, please offer them up. Would love to make this an annual event and if we out grow my place in the future, we will just find another near by for years to come.
I am sure there are others that will be invited. Bring your buddies, wives and etc. no problem. We would ask that you confirm your attendance no later than June 1st if at all possible. This will give us time to plan and make ready.
Wish you the best and hope you can make it at least for a bit if not the entire time.
---
7 comments on "1st Annual Oriole Jam"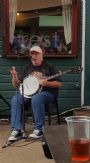 joemac Says:
Wednesday, May 2, 2012 @12:45:45 AM
Next year, for definate!!

dgill Says:
Friday, May 11, 2012 @2:39:01 AM
Hey, I thought it might be good to sign the guest list by placing your names here if you are planning to attend. Others can see this and it motivate someone that wants to meet you come ahead out.
rickshunter1 Says:
Friday, May 11, 2012 @5:04:40 AM
I will be there buddy sometime Friday I cannot wait I need this weekend getaway with my buddies.

RatLer Says:
Friday, May 11, 2012 @8:25:34 AM
Hope you do it next year...!!!

dgill Says:
Saturday, May 12, 2012 @3:45:09 PM
You can count on it Greg. Would love to have ya join us.

Bilbo1 Says:
Saturday, May 12, 2012 @4:25:54 PM
Fair play to you Donnie!! Obviously I won't be there but hope it all goes well and a good time is had by all :)

dgill Says:
Monday, May 28, 2012 @7:54:23 AM
Thought I would get this back up as a reminder. Would love to have ya's for a visit.
You must sign into your myHangout account before you can post comments.