Posted by Patanio on Sunday, April 29, 2012
Started trying the basic rolls. I really find it difficult. Get really frustrated with doing just one, so I alternate doing them all. I can do it for a short time, but really get upset when I can't do it more than 10 or so repetitions without messing up. I tell myself that I am just starting, but having played guitar for years, I feel like I can't do music at all now, there is a huge learning curve. I just want to be able to sit down and play, but it doesn't work that way. I know it will be worth it, but man, it is frustrating!
---
5 comments on "Learning Rolls"

Texasbanjo Says:
Sunday, April 29, 2012 @3:32:55 PM
Going from guitar to banjo is a pain - you're not used to that 5th string and getting the fingers to do rolls is different than on the guitar. I had the opposite problem, going from banjo to guitar -- and having to learn scales rather than arpeggios.

crankshaft Says:
Monday, April 30, 2012 @6:19:59 AM
Try this, at night pick a tv show and one of the banjo rolls and with ( picks off ) just do the roll over and over while you watch tv. The tv show will train you to complete the rolls with your attention diverted and the ( picks off ) allows others to tollerate you while you practice. This really helped me a lot in the beginning stages of banjo pickin.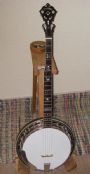 Patanio Says:
Monday, April 30, 2012 @6:37:18 AM
Sounds like a good idea!

crankshaft Says:
Monday, April 30, 2012 @6:52:23 AM
Keep me posted , it really worked well for me.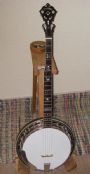 Patanio Says:
Tuesday, May 1, 2012 @2:52:19 PM
It actually works! Seems like concentrating too much hurts me.
You must sign into your myHangout account before you can post comments.