Well, new to me anyway. I attended a jam class and the instructor had this Samick SB3 sitting out. I really liked the way it looked but when I realized it was a Samick, I almost turned around. My experience with Samicks is akin to my experience with Hondo's. I thought they were cheap instruments that were hard to play and almost impossible to pull decent tone out of. When I picked it up...it was solid. I played it and sounded great and was easy to play. The instructor mentioned that it was for sale and wanted $500.00
I bought it. Now, I needed another banjo like I need a hole in the head. I have a Huber (which I'm begining to believe is a lemon), An Old Gibson RB4 that dies above the 12th fret and a Fender Leo that plays well and has good tone. This Samick really pops.
I can't believe it......anyway, it's fun to play.
I guess if there were a moral to this story, it would be not to judge an instrument before you play it. I thought that in order to get a good instrument, I'd have to pay for it. After all, I've always been told that you get what you pay for.
In this case, I have a $500 banjo that sounds better than a $2500 banjo and a $5000 banjo.
Who'd a thunk??
---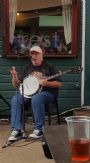 joemac Says:
Wednesday, April 18, 2012 @4:36:48 PM
Good for you Ken, it goes to show mate, the price doesnt always reflect in the tone. I,ve know loads of this type of banjo that beat the heck out of some top liners, enjoy it mate!!

J Ward Says:
Wednesday, April 18, 2012 @5:55:29 PM
Ken, if i was you, I'd take the Huber and RB-4 to Donnie Little in Claremont and he will set them both up to their full potential. I have a Gibson ESS that did not sound good and the intonations were way off above 10 - he made it well. Jeff

banjotom2 Says:
Saturday, April 28, 2012 @2:49:56 PM
My lady friend has an "Aria" that I like better than my Gibson Mastertone... Go figure...
Barnet in SoCal Says:
Saturday, May 12, 2012 @10:31:12 AM
Ken, you're in Hendersonville.... take your Huber right straight over to Steve Huber and magic will happen.... :)

Gymbal31 Says:
Thursday, May 17, 2012 @8:32:45 AM
If you don't like the Huber, I'll give you $500 for it so you can break even on the Samick.

plunka5 Says:
Tuesday, January 8, 2013 @8:08:20 PM
I agree with Jward1960, the trip from Hendersonville to Claremont, N.C. will be well worth the effort. Donnie can bring that RB-4 and Huber "back-to-life" Ken!
You must sign into your myHangout account before you can post comments.