Posted by wkb28791 on Monday, April 9, 2012
Recently I had the good fortune to attend one of Pete Wernicks Jam Classes. It was held in Pumpkin town SC and taught by Gilbert Nelson. The class was 8 hours long on three Saturdays in a row. I have to say, It was money well spent. Mr. Nelson is an excellent teacher/musician and is very encouraging. I learned a lot about Chord structure, singing (very important), jamming and Jam etiquette. I can honestly recommend it to anyone who is a closet picker with an interest in making music with other people.
A couple things that I hope to do is to find jamming groups in my neck of the woods and possibly even getting some lessons from Mr. Nelson. The thing that I like about Mr. Nelson's approach to learning is not to just take tab and learn songs but to use the chord structure of the song and develope my own versions of songs. I would also develope good back up skills as well.
Well, just wanted to say that I enjoyed it and look forward to moving off of this plateu that I've been on for an awful long time.
---
1 comment on "A renewed effort"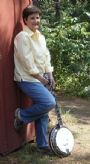 Banjosnob Says:
Monday, April 9, 2012 @4:06:48 PM
Check out Pete Wernick's Jam class schedule on link below. Mr. Nelson has 2 classes on the roster, along with many other wonderful teachers. Money well spent!
drbanjo.com/camps.php
You must sign into your myHangout account before you can post comments.