Got my second lesson under my belt and I'm already picking up bad habits. Learning to arch my left hand over the neck is going to take some getting used to and my instructor and I are thinking about super gluing my pinky to the drum head..... LoL. Normal nooby problem areas so I guess that I'm right on track as far as that goes... :-). Up to 66 bpm on my rolls and went through Banjo in the Hollow and Part A, B and B Alternate of Cripple Creek. Started learning some other things but I'm sure I'll have to go over them several times to get them stuck in my head. Great time. Loving every minute of it.
---
5 comments on "Second lesson under my belt"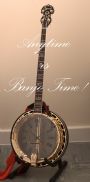 ragitty Says:
Monday, March 19, 2012 @9:09:54 AM
Congratulations Tim, enjoy every minute, even the mistakes you make along the way, :)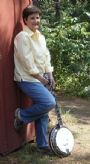 Banjosnob Says:
Tuesday, March 20, 2012 @4:50:24 AM
yeah! You are doing great!


Bruce G Says:
Thursday, March 22, 2012 @3:23:17 PM
Congrats. Best advice I have is take it slow, don't get discouraged and what ever you do, have fun.

Banjo Rose Says:
Saturday, March 24, 2012 @8:08:11 AM
Practice and determination. I am addicted to my banjo...... Have fun!

TimDreamer Says:
Saturday, March 24, 2012 @1:39:23 PM
Thanks for the kind words and encouragement, folks. I love the way my 'jo sounds when picking. Banjo fever!!
You must sign into your myHangout account before you can post comments.