Posted by iSteve on Wednesday, March 14, 2012
Well, after two weeks of owning a new Deering banjo and practicing on my own, I went this evening to meet my new banjo teacher. His name is Brett - and he is great. He approved of the rolls I had been practicing and gave me a few more to work on. He also has me working on some chords for this coming week - C, D, G.
I took all the books that I have bought on the banjo with me and we decided to work the Scruggs book for now. It covers the basics very well. Glad that's decided.
I'm also working on "Cripple Creek" at Brett's suggestion. I guess "Ashokan Farewell" will just have to wait. ;)
Peace,
Steve
---
7 comments on "My First Banjo Lesson Tonight"

Torben Pedersen Says:
Thursday, March 15, 2012 @1:22:15 AM
Hi Stephen
Thats great. Glad that you now have a "system" for playing/learning. That will do the learning easier for you. Good luck and happy picking.
Torben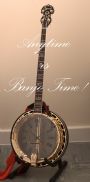 ragitty Says:
Thursday, March 15, 2012 @2:21:41 AM
Nice one Stephen, with a good teacher you can go a long way to faster learning. keep it up and remember to enjoy it even when you make mistakes. regards Lee

banjo_neophyte Says:
Thursday, March 15, 2012 @9:35:17 AM
Way to go Steve. I find that with a teacher, I have someone to play banjo with at least once a week. As I get comfortable with the melody and add rolls we are able to play back and forth. For me, that helps. Have fun and good luck!

Bird Says:
Thursday, March 15, 2012 @2:37:05 PM
Congrats man! I'll be joining the rank of "supervised learning" myself within a couple weeks. Happy pickin!
iSteve Says:
Thursday, March 15, 2012 @3:13:29 PM
Jay, I like that - "supervised learning." Good luck with your lessons as well.

privard Says:
Thursday, March 15, 2012 @5:57:03 PM
I used to think I got a late start on banjo, not beginning to play till I was 18. Now I teach guys who are 3 times that age at their first lesson. So congratulations on beginning to learn this great instrument. None of us ever stop learning, if we are diligent in our approach. Have fun learning, and put in the work. You play so that you discover where work is needed, then you work to be better at play.

BanjoBelle Says:
Friday, March 16, 2012 @7:18:31 PM
cool deal Lucille! Nothin beats a good music teacher that you like!
I'm working out of a Wayne Erbsen book "Bluegrass banjo for the complete ignoramous." keep up the good playin. :-)
You must sign into your myHangout account before you can post comments.